Deepening of relations between Azerbaijan,Germany especially important for Europe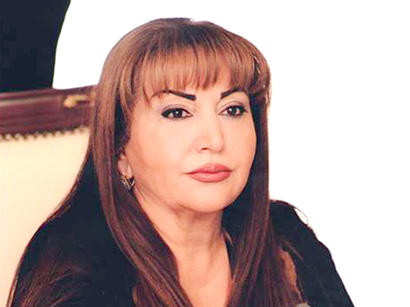 By Trend
German Chancellor Angela Merkel's Visit to Azerbaijan will be the basis for further deepening of bilateral relations, the Member of Azerbaijani Parliament Sadagat Veliyeva told Trend.
Veliyeva noted that Germany is one of the strongest countries on the European continent.
"In particular, the geopolitical and geo-economic processes taking place in the world over the recent period create an opportunity for such states as Germany to implement plans to expand and deepen cooperation and partnership relations in various regions. Of course, Merkel's visit is no exception from this point of view," Veliyeva said.
The Azerbaijani MP noted that over the past 15 years, the GDP of the Azerbaijani economy has tripled, and $250 billion has been invested in the country.
"Azerbaijan has risen to 35th place in the competitiveness rating of the World Economic Forum. Our country continues to make a special contribution to the energy security of Europe. Also, the transit and communication infrastructure of Azerbaijan creates favorable conditions for the implementation of promising energy projects," Veliyeva said.
The Azerbaijani MP noted that the EU accounts for 50 percent of the total trade turnover of Azerbaijan.
"From this point of view, the EU member states prevail among foreign countries investing in the economy of Azerbaijan," the Azerbaijani MP said.
The Azerbaijani MP also added that in 2017 the EU's share in Azerbaijan's foreign trade amounted to 42 percent, reaching $9.4 billion.
"In the first four months of 2018, this figure amounted to 15 percent and $3.7 billion. During the period of independence, about $ 25 billion was invested in the economy of Azerbaijan by the EU countries. More than 1,500 companies from the EU member states operate in Azerbaijan. Azerbaijan is the main trading partner of Germany in the South Caucasus," Veliyeva said.
The Azerbaijani MP noted that during the meeting with businessmen, President Ilham Aliyev and Angela Merkel said that the strategically important location of Azerbaijan, which has borders with Iran and Russia and has established close relations with Turkey, makes Baku very important for the diversification of Europe's energy supply.
All this testifies to the importance that official Berlin attaches to close cooperation with Baku.
Veliyeva added that the deepening of relations between Azerbaijan and Germany is of particular importance for South Caucasus and Europe.
---
Follow us on Twitter @AzerNewsAz