15 August 2018 13:52 (UTC+04:00)
1 520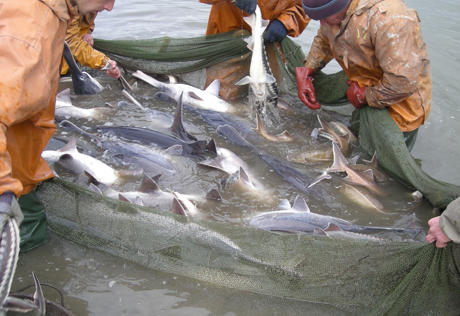 By Naila Huseynli
Caspian Sea littoral states will conduct joint struggle against illegal exploitation in the Sea.
The states will sign a protocol during the second session of the Commission for the Conservation and Rational use of Aquatic Biological Resources and Management of Shared Stocks of Such Resources of the Caspian Sea scheduled for this November.
Mehman Akhundov, director of the Scientific Research Institute of Fisheries under the Ecology and Natural Resources Ministry said that law enforcement agencies and border military forces of the Caspian littoral states will carry out joint measures against illegal exploitation on the basis of this protocol.
He also mentioned that illegal hunting must be prevented in order to achieve growth in the sturgeon population. For that, joint efforts should be made at the regional level, and the law enforcement agencies of the Caspian littoral states should cooperate together.
The final version of the intergovernmental agreement on establishing moratorium on industrial fishing for sturgeon in the Caspian Sea will be presented at the second session, added Akhundov.
The representative of MEHR noted that governments were instructed to prepare an intergovernmental agreement on the establishment of a moratorium on industrial fishing for sturgeon at the third Summit of the Caspian littoral states held in Baku in November 2010.
"The Commission made such a decision during the session held at the end of 2010 that the Caspian littoral states apply a technical moratorium before the agreement is signed. This means that although we do not have intergovernmental agreements, we have promised each other not to hunt these fishes. These fishes can only be hunted for breeding purposes and very small amount for scientific purposes. Since 2011, the Caspian littoral states extend the moratorium annually. After the signing of intergovernmental agreement, the moratorium will be officially imposed".
--
Follow us on Twitter @AzerNewsAz
Related News