13 October 2016 12:05 (UTC+04:00)
2 751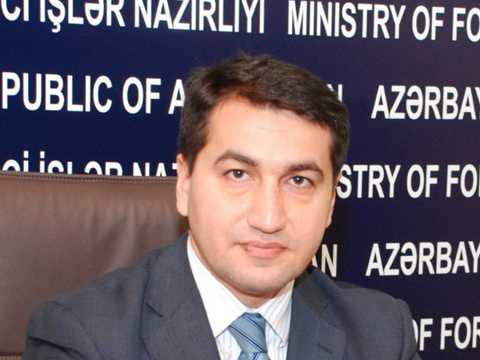 By Rashid Shirinov
Council of Europe's (CoE) Secretary General Thorbjorn Jagland in his appeal to the PACE session on October 10 voiced his concerns about the human rights situation in the Armenian occupied Nagorno-Karabakh region of Azerbaijan. He emphasized the need of sending monitoring missions to the conflict zones.
"The Council of Europe has no access to study the situation with the human rights in those areas, which is unacceptable," he said.
Armenia keeps under occupation 20 percent of internationally recognized territory of Azerbaijan, including the Nagorno-Karabakh region, which it seized laying groundless territorial claims on a neighboring country. Now the vast area is under control of a separatist regime supervised by Armenia.
Indeed, no human rights can be observed in occupied areas as long as Armenian occupation troops stay there and the territory is out of legal control of Azerbaijani authorities. Local people of Karabakh are deprived of both civil and human rights, while the separatist regime ignores every call of the international community to fulfill the commitments of the international law.
The Council of Europe's monitoring mechanism can't give any desired result without elimination of the occupation, which is the fundamental basis of the Armenia-Azerbaijan Nagorno-Karabakh conflict, Hikmat Hajiyev, the spokesman for Azerbaijan's Foreign Ministry, believes.
"Firstly, the occupation and aggression fact, which is an obstacle to solving the Nagorno-Karabakh conflict, must be removed and the Armenian troops must be withdrawn from the occupied Azerbaijani territories," said Hajiyev.
He also reminded that according to the 221st PACE recommendation, Armenia within the framework of its Council of Europe membership, undertook responsibility in connection with the conflict's solution.
"The Council of Europe should demand from Armenia to execute these obligations and respect the norms and principles of international law in order to contribute to the conflict's settlement," he added.
The so-called "Nagorno-Karabakh Republic" is not recognized by any country, and even by belligerent Armenia itself. Armenian occupant troops try by any means to seize the outflow of population from the area. Many residents are simply obliged to adopt Armenian citizenship to leave the territory.
This call by Jagland was warmly met among the separatists in Nagorno-Karabakh, who seem to admit shortage with universal human rights in the uncontrolled area.
Furthermore, the violated rights of over one million Azerbaijanis displaced as a result of the large-scale hostilities caused by Armenia should be restored as well. These people continue leaving a refugee life in their own territory for over 20 years, waiting for the justice to win at least.
Restoring the rights of citizens in Nagorno-Karabakh is possible only through enforcing peaceful solution to the long-lasing conflict. The more Karabakh remains under occupation, the more people here will suffer from the doleful situation triggered by Armenia.
Related News