22 May 2014 09:41 (UTC+04:00)
1 703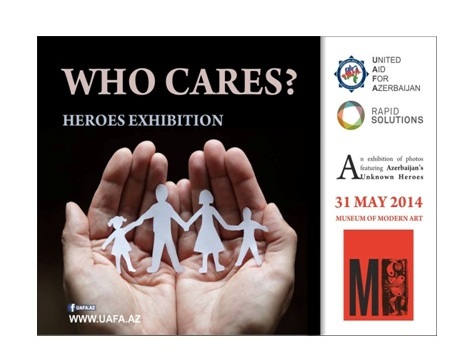 By Nigar Orujova
Baku Museum of Modern Art is going to host "Who cares?" Heroes Exhibition on May 31.
The exhibition will present the works of world-famous photographer Nathan Browning made in Azerbaijan.
Browning, the Rolling Stones photographer, visited the Shagan institution No.3 and households in the Yasamal district of Baku to help United Aid for Azerbaijan (UAFA) highlight the role of women in caring for children with disabilities.
Nathan has always been fascinated with people and emotions, on which most of his works focus.
The idea of this exhibition arose during this visit, when Browning was taking the photos.
Also, David Montgomery, internationally acclaimed Royal and celebrity photographer, will participate at the exhibition. He has mentored Nathan and will speak about the presented photos, and the new prospects, they have opened.
Paying special attention to the role of caregivers and understanding the difficulties these devoted women face every day, the exhibition will help appreciate their everyday's toil.
They are true heroes, but nobody has drawn attention to their endeavors until now.
Nathan's heroes ask who would care for disabled children and support their families in these women's stead. 'Who Cares' is an issue that is important to everyone, young or old, rich or poor, with or without family.
"Any of us could end up in a situation where we'd depend on someone else to take care of us," UAFA says.
The organization believes the role of the State is to ensure that this care is regulated and of high standards and meets human rights. UAFA works closely with the Ministry of Labour & Social Protection to raise standards of care.
The Museum of Modern Arts will sponsor the event. Rapid Solutions, the other sponsor of the event, will meet the travelling costs of Nathan and his team -Jacky Storer, a journalist, author and BBC reporter and David Montgomery, an internationally acclaimed celebrity photographer.
All the staff involved in this project has spent their time and energy voluntarily.
The same exhibition will be held at a museum in London in August-September. Rapid Solution will pay for the travelling expenses this time as well.
Related News