France to study investment opportunities in Azerbaijan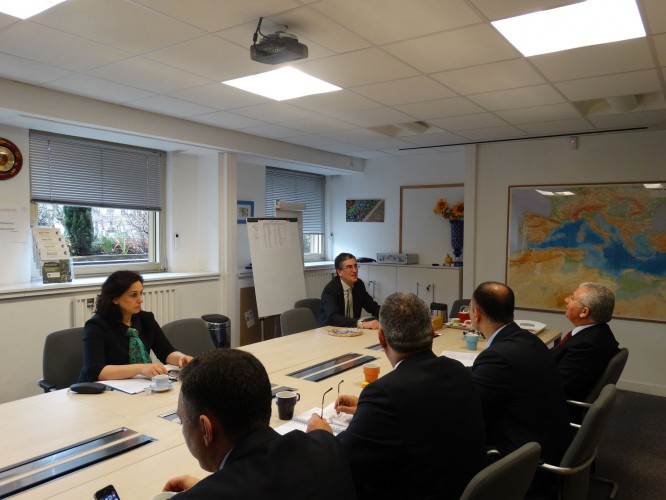 An Azerbaijani delegation led by Agriculture Minister Heydar Asadov has visited France to attend a conference entitled "Agriculture in the wake of climate change".

The conference discussed threats emerging in the field of agriculture due to negative impact of climate change and adaptation of agriculture to climate change, AzerTag state news agency reported.

Speaking to the conference, French President François Hollande noted the importance of joint efforts towards fighting against negative impacts of climate change.

As part of the visit, Asadov met Stephane Le Foll, French Minister of Agriculture, Food and Forestry. They hailed the Memorandum of Understanding signed during the French president`s Azerbaijan trip last year, saying it created legal base for cooperation. They underlined the importance of establishing a working group for further cooperation.
The two ministers also discussed investment making by French businessmen in Azerbaijan`s agricultural field, as well as cooperation in a number of fields, including dairy, vine-growing and cattle-breeding.
The French minister said he would consider sending a delegation of businessmen specializing in the areas of agriculture and food industry to Azerbaijan for studying investment opportunities.

Asadov invited his French counterpart to attend Ganja wine festival to be held next November.

The Azerbaijani minister also attended the opening of the 52nd Paris International Agricultural show, and held a number of meetings on its sidelines.

Asadov met Jose Graziano da Silva, Head of the UN Food and Agriculture Organization to explore prospects for cooperation between Azerbaijan and the organization, as well as the opening of FAO Partnership and Coordination Office in Baku. The meeting with chairman of the European and Mediterranean Plant Protection Organization Martin Ward, Minister Asadov discussed phytosanitary in Azerbaijan. The minister also met Bernard Vallat, Director General of the World Organization for Animal Health to discuss the cooperation between Azerbaijan and the organization.

- - -
Follow us on Twitter @AzerNewsAz