Azerbaijani and Turkish deputies hold discussions through teleconference - new project of Azerbaijani Parliament and Baku Network expert platform [PHOTOS/VIDEO]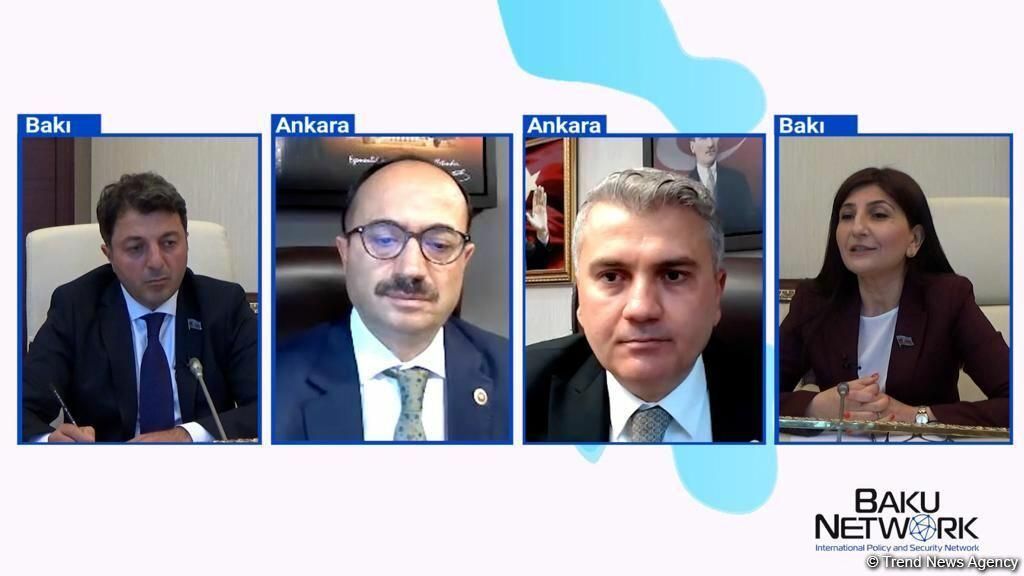 Within the framework of cooperation between the Milli Majlis (parliament) of Azerbaijan and the expert platform "Baku Network", Azerbaijani deputies Tural Ganjaliyev and Sevil Mikayilova held discussions through a teleconference with the deputies of the Grand National Assembly (GNAT) of Turkiye from "AK parti" Mustafa Janbek and Osman Mesten.
Azernews reports, citing Trend that during the debate, the deputies touched upon the socio-political processes taking place in the region, relations between Turkiye and Azerbaijan, which are at the peak of their development, an example of democracy, which Turkiye demonstrated to the world through transparent and fair elections, as well as the unconstructive position of Yerevan in the process of negotiations on a peace agreement with Azerbaijan and other issues. The parliamentarians also stressed the importance of further development of relations between the Milli Majlis of Azerbaijan and the Grand National Assembly of Turkiye, work on new projects.
The Azerbaijani deputies noted that members of the Milli Majlis, by holding such televised debates, use innovative methods in parliamentary diplomacy. In the activities of the Milli Majlis, a special place is occupied by the fulfillment of the tasks set by the President of Azerbaijan Ilham Aliyev in the field of foreign policy, in particular, bringing Azerbaijani realities to the world. The promotion of the foreign policy of the Azerbaijani state in the parliamentary plane by innovative methods is the order of the day and allows more efficient work in this direction.
It should be noted that the Milli Majlis of Azerbaijan, using the capabilities of the Baku Network expert platform, is developing parliamentary diplomacy along a new vector. The goals are the further expansion of parliamentary diplomacy in effective areas, the organization of activities in a new plane to bring the deputies to the attention of Azerbaijan's position in the geopolitical and geo-economic processes taking place in the world. Opportunities are being created for deputies to hold debates with their colleagues in the format of a teleconference, discussions on issues of mutual interest with the participation of well-known political figures and authoritative experts are envisaged. This teleconference with the participation of members of the GNAT is also an integral part of cooperation.
Here is the full video of the discussion:
---
Follow us on Twitter @AzerNewsAz