29 August 2016 13:36 (UTC+04:00)
2 601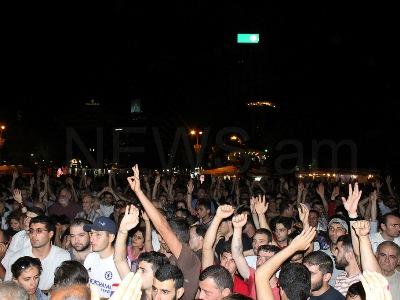 By Rashid Shirinov
Despite the surrender of Sasna Tsrer, a group of armed people who seized a police station in Yerevan back in July in protest to the Armenian government, people continue gathering in main venues of the capital city to express their support to the attackers.
Latest of these rallies was held on August 26 on Freedom Square in the centre of Yerevan. Hundreds of people, including the member of the initiative Founding Parliament Alec Yenigomshyan, gathered on the square.
The protests demanded the Sargsyan regime to resign, as well as urged proper treatment for the wounded members of the armed group, who were arrested.
Due to the street rallies, which followed the Sasna Tsrer's protest action, the authorities noticed that the regime got under a threat and took actions that temporarily calmed the situation , Deputy Chairman of the Armenian "Legacy" Party, Armen Martirosyan said in an interview to Tert.am.
In particular, the police arrested and detained active members of Coordination Council and took punitive actions against protesters with the use of batons and stun grenades.
However, all this couldn't suppress the protests – "We will continue our struggle until we achieve systemic change," Armen Martirosyan claimed.
He noted that currently Armenia witnesses an interesting phase and Sasna Tsrer served as its spark, a wave coming out from a stone thrown in the water.
"It is obvious that the political processes will continue. In addition, the country suffers from such socio-economic and political situation, that civil activation will happen for sure. We will continue our fight," Martirosyan assured.
On July 17, a group of armed men entered the territory of the Armenian police patrol department in the Erebuni district of Yerevan and took several people hostage. The attackers demanded the release of Armenian opposition figure Jirair Sefilyan, who was arrested on charges of illegal possession of arms. They also demanded resignation of Armenian President Serzh Sargsyan.
Following the long-lasting talks, the armed group on July 23 released all of the hostages. Nevertheless, they refused to lay arms down and surrender to the authorities. On July 27, the group took new hostages. They were four ambulance doctors who arrived at the police station to assist the wounded in the shootout between the police and Sasna Tsrer members. By July 31, they were also released, and the armed group surrendered. The two-week seizure took lives of two Armenian police officers.
From the first day of the seizure, Armenian people started their protest actions against authorities by gathering on Yerevan's streets. Following the rally in Saritagh district of Yerevan, the police brutally dispersed the protesters and arrested 165 people. As a result, 73 citizens addressed medical institutions with injuries of varying degrees of severity.
---
Rashid Shirinov is AzerNews' staff journalist, follow him on Twitter: @RashidShirinov
Follow us on Twitter @AzerNewsAz
Related News