13 February 2019 18:06 (UTC+04:00)
2 937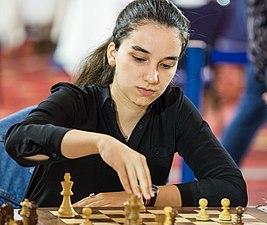 By Mirsaid Ibrahimzade
Azerbaijan Women's Chess Championship has ended.
In the tournament, which was held in the building of the federation, Gunay Mammadzade became the winner. In the ninth round, she defeated Melek Ismail with black pieces. As a result of the victory, she scored 8.5 points and became the champion of the country again.
The second place went to Khanym Baladzhayeva, who was ahead of Govhar Beidullayeva by the best difference of the coefficients - both chess players scored 6.5 points, two points behind Mammadzade.
She was honored with this title in 2017.
Previously Gunay Mammadzade was fifth in the FIDE rating for January 2019 and 49th in the list of 100 best women in the category of chess among women and 5th in the list of "100 best girls" with 2422 points. She is an Azerbaijani chess player who has the highest result in the FIDE rating list (2442 points, May 2018) and position (32nd place, June 2018).
Gunay Mammadzade has been playing in chess since 2005. Her personal trainer is an international grandmaster Rasul Ibrahimov.
In 2014, she fulfilled the norm of the international master among women and in the same year she became a female grandmaster.
Gunay made her debut in the women's national team in September 2016 at the World Chess Olympiad in Baku as part of the main (first) women's team of Azerbaijan.
Her style assumes start with the move e2-e4 on the chessboard. She chooses the style of play according to the turn of the game. The most favorite pieces on the chessboard are the horse and the queen. She considers these figures as her "main weapon" on the chessboard. Her idol is the Norwegian world champion Magnus Carlsen.
--
Follow us on Twitter @AzerNewsAz
Related News