Turkmen field records industrial flow of natural gas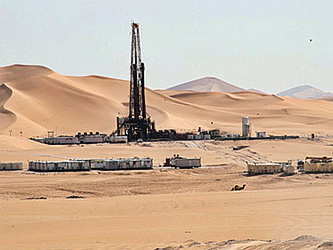 By Fatma Babayeva
An industrial flow of natural gas was obtained at an exploration well on Giurgiu new promising field, located on the territory of Mary region, south-east of Turkmenistan.
Neutral Turkmenistan newspaper reports that the well was drilled at the depth of approximately 4,600 meters by the Turkmen Geology State Corporation in the territory of Mary region near the rich gas field Galkynysh. The daily production of the well amounts to one million cubic meters.
Currently, gas dynamic studies continue at the Giurgiu field. The close location of the Giurgiu field to the well-known giant Galkynysh gas field testifies to the great prospects for the new field.
In the long term, exploratory work to identify the borders of the new field will be held in this area.
The field expands even more gas-bearing zone than Galkynysh field which confirms its possible extension that predicted earlier by the 3D seismic survey method.
The estimated total reserves of the Galkynysh field together with the adjacent Yashlar field amounts to 26.2 trillion cubic meters of gas, according to the results of the independent audit carried out by the British Gaffney, Cline & Associates. If the reserves in newly discovered Garakel field are also added to this figure, the block's reserves rise to 27.4 trillion cubic meters.
Moreover, 9 new wells are set to begin production at Galkynysh field by the end of 2016. Turkmenistan plans to add the extracted gas from this field to its exports China.
After Russia stopped buying Turkmen gas, the country directed this gas to other markets.
Furthermore, the country will be able to increase gas supply to China from Malai field in the near future with the construction of a gas booster station. This field is one of the main sources for the Central Asia- China gas pipeline, also known as Turkmenistan –China gas pipeline, which was commissioned in 2009.
Earlier, Turkmengaz signed an agreement with Chinese national petroleum cooperation- CNPC on providing 65 billion cubic meters of gas annually to China by the end of 2021. Roughly, 35 percent of China's gas import accounts for the Turkmen gas.
In addition, Turkmenistan commenced the construction of its section of TAPI pipeline recently.
In the meantime, the country plans to enlarge its LNG exports as well. Currently, the country sells LNG to Pakistan, Afghanistan, Georgia, Iran and Tajikistan.
Turkmenistan enjoys the world's fourth largest natural gas reserves after Russia, Iran, and Qatar It produces about 70-80 billion cubic meters of gas annually.
According to the BP statistical review of 2015, Turkmenistan holds 9.3 percent of the world's total proven natural gas reserves and produced 2 percent (70 billion cubic meters) of the world's total gas output.
---
Fatma Babayeva is AzerNews' staff journalist, follow her on Twitter: @Fatma_Babayeva
Follow us on Twitter @AzerNewsAz