26 December 2012 11:51 (UTC+04:00)
1 265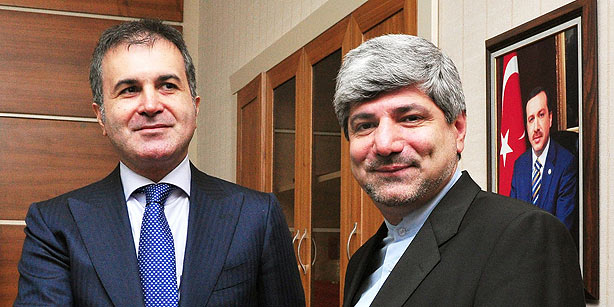 The deputy chairman of the ruling Justice and Development Party (AK Party), Ömer Çelik, met with Iranian Foreign Ministry Spokesman Ramin Mehmanparast in the Turkish capital of Ankara on Tuesday to discuss bilateral ties and regional issues, Today`s Zaman newspaper reported.
Speaking after the meeting, which was closed to press, Çelik said they discussed regional issues high on agenda including the situation in Syria and the deployment of NATO Patriot anti-missile systems near Turkey's border with Syria.
"There may be some cyclical problems between Turkey and Iran but this cannot damage the whole relationship between the two countries," Çelik said, speaking to reporters after the meeting.
The Iranian official's visit came amid growing tension between the two neighbors after Turkey asked NATO to deploy Patriot anti-missile systems near its border with Syria as a measure against a possible missile threat from Syria. Iran and Russia opposed the move and Iran's top military commander has said the deployment could open the way for a world war.
"We need to cooperate with each other to ensure regional security," Mehmanparast said after the meeting, echoing Çelik's comments. Regional crises could be resolved through dialogue between Turkey and Iran, the Iranian official further stated.
Turkey and Iran have tried to keep relations unaffected by their dispute over Syria, but tension has become visible following the Patriot move, with Iranian Foreign Minister Ali Akbar Salehi calling the deployment "provocative" and Iranian President Mahmoud Ahmadinejad calling off a visit to Turkey, apparently as a result of tensions.
Related News