13 October 2017 17:08 (UTC+04:00)
4 983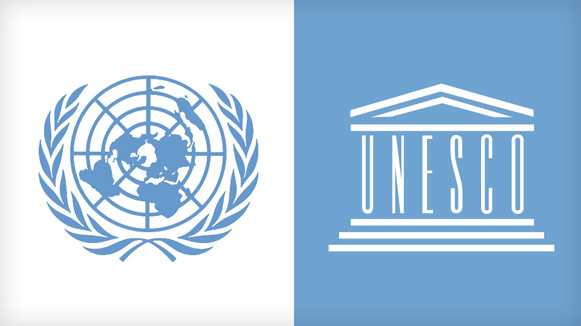 By Kamila Aliyeva
Israel will follow the United States, which notified about its decision yesterday, in abandoning the UNESCO.
However, the U.S. reserved the right to return in case the international organization is reformed.
The United States does not rule out the possibility of returning to the UNESCO if the organization returns to its primary goals and will be reformed, U.S. State Department spokesperson Heather Nauert said during a regular briefing, RIA Novosti reported.
"If UNESCO wants us to come back, if it wants to reform itself, to return to the starting point in terms of helping education and culture and so on, maybe we can consider this possibility," she said, answering the question whether the United States can ever return in UNESCO.
Meanwhile, Israeli Prime Minister Benjamin Netanyahu announced that Israel is also planning to withdraw from the body, according to a statement from the Prime Minister's office.
In the statement, Netanyahu hailed the U.S. move as a courageous and moral decision. He said UNESCO had "turned into a theatre of the absurd as instead of preserving history, it twists
it."
The U.S. State Department notified UNESCO, the UN Educational, Scientific and Cultural Organization, of its withdrawal on October 12.
The decision will come into force on December 31, 2018. The U.S. will remain an observer in the Paris-based cultural, scientific and educational organization.
The head of UNESCO, Irina Bokova, has already expressed regret over Washington's step.
She recalled that in 2011, after the suspension of Washington's financial participation in the organization, she said that "UNESCO has never been more important to the United States, and the United States has never been so important to UNESCO."
"This truth has become even more evident today, at a time when the growth of extremism and terrorism calls for new long-term solutions for peace and freedom, in the context of combating racism and anti-Semitism, in combating ignorance and discrimination," she said.
U.S. Ambassador to the UN Nikki Haley on Thursday noted UNESCO's 'good goal' and declared 'extreme politicization' of the structure. She called the fact that the Syrian President Bashar al Assad remains in the UNESCO Human Rights Council "even after his murderous cruel measures against peaceful protesters" an example of 'stupid actions'.
The U.S. suspended paying dues to the international body in late 2011 after the agency voted to accept a Palestinian bid for full membership and now owes approximately $550 million.
UNESCO is responsible for coordinating international cooperation in education, science, culture and communication. The organization was established in 1945 with its headquarters in Paris. Almost 200 states are currently members of UNESCO.
---
Kamila Aliyeva is AzerNews' staff journalist, follow her on Twitter: @Kami_Aliyeva
Follow us on Twitter @AzerNewsAz
Related News