3 October 2016 11:35 (UTC+04:00)
2 762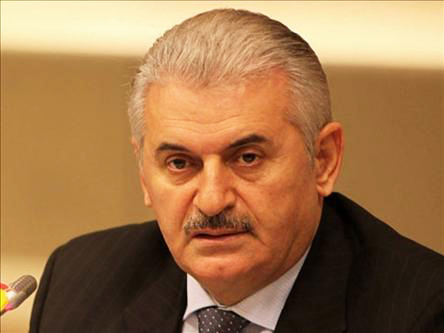 By Gunay Hasanova
"The attempted coup on July 15 will never be forgotten. We will not allow this to happen again," said Turkish Prime Minister Binali Yildirim, Anadolu Agency reported.
The Turkish prime minister accused the Fethullah Terrorist Organization, or FETO, of perpetrating rumors of a possibility of a second coup attempt.
"There will be a new attempt, it will be tonight, and they will come tomorrow… Those are a pack of lies to create unrests in the society," Binali Yildirim said, accusing FETO of being behind the rumors.
Speaking to reporters during a reception to mark the new legislative term of the Turkish parliament, Yildirim stressed that the government was taking all the necessary measures to prevent any such attempt.
Yildirim's remarks came after several media reports claimed that the government fears a second coup attempt.
He pointed out that those who would try to plot another coup attempt would pay a price higher than those who organized the one on July 15.
Earlier, it was reported that Turkish police have arrested the brother of Fethullah Gulen, accused by the government of plotting the July 15 deadly coup attempt.
Kutbettin Gulen was detained in Turkey's western Izmir province on charges of "being a member of an armed terrorist organization".
Previously, Kutbettin Gulen was dismissed from a printing house operating under Kaynak Holding after the state-appointed trustees to the company in 2015 for its links to the Fethullah Terrorist Organization (FETO).
Gulen is accused of leading a long-running campaign to overthrow the Turkish government through the infiltration of state institutions, particularly the military, police, and judiciary, forming what is commonly known as the parallel state.
Turkey has repeatedly asked the U.S. to extradite Fethullah Gulen, who lives in self-imposed exile in Pennsylvania since 1999.
A group of servicemen made an attempt for a military coup in Turkey on July 15. However, the rebelling servicemen started to surrender July 16 and Turkish authorities stated on a failure of the attempt for the military coup.
Turkey's President Recep Tayyip Erdogan said that the death toll as a result of the military coup attempt stood at 246 people excluding the coup plotters and over 2,000 people were wounded.
Erdogan declared a three-month state of emergency in Turkey on July 20.
---
Follow us on Twitter @AzerNewsAz
Related News