Anar Mammadov: TANAP will ensure natural gas supply security of Turkey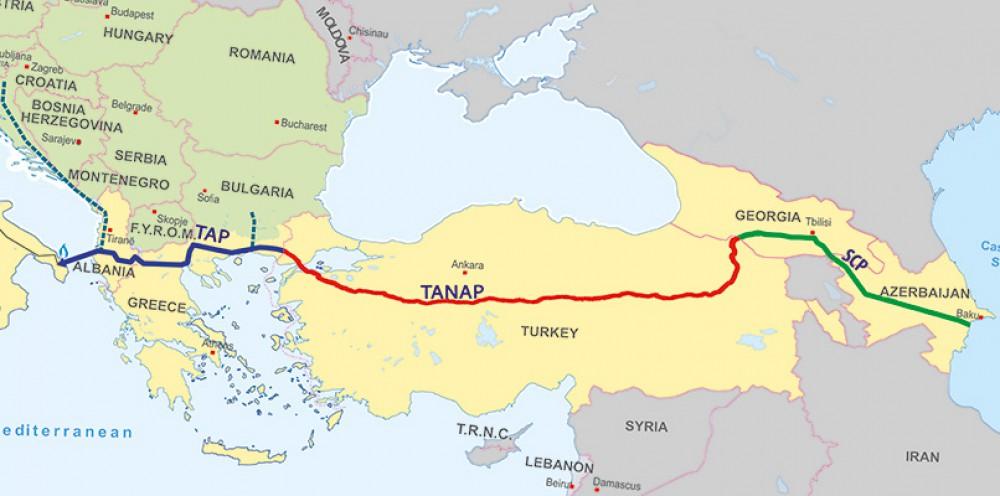 By Gunay Camal
The Trans-Anatolian Pipeline (TANAP) project, designed to transport Azerbaijani gas to Turkey and then to Europe, will help to cover current deficit in Turkey and ensure natural gas security of the country, said Anar Mammadov, Director General of Petkim Holding.
He noted that in 2018, TANAP will be put into operation (section to Eskişehir) and first gas will be delivered to Turkey (on "Shah Deniz-2"), Azertac reported referring to Anadolu Agency
Stating that first stage will be commissioned in 2018 and is planned to be completed in 2020, Mammadov underscored that TANAP and other projects will help reduce the current account deficit, which is the most important problem in the Turkish economy.
The length of TANAP is 1,800 kilometers with the initial capacity of 16 billion cubic meters. Around six billion cubic meters of the gas will be delivered to Turkey and the remaining volume will be supplied to Europe.
TANAP shareholders are Azerbaijan's state oil company SOCAR (58 percent), BOTAS (30 percent) and BP (12 percent).
The Petkim general manager further said that in Turkey, which they regard as having great potential, they have invested a total of $18 billion. Some $11 billion of that has been completed and they plan to complete all their projects by 2020.
He said that currently, SOCAR is the largest foreign investor in Turkey as well expressed confidence in Turkish economy: "We do not feel like strangers in Turkey. Turkey is a very close and brotherly country. Being an international company, SOCAR has been investing in many countries around the world, the largest volume of these investments made in Turkey".
Speaking about STAR oil refinery, which is under construction in Izmir, Petkim Head said that the plant will be launched in 2018.
He also spoke about importance of the Petlim Container Port and noted that this port allows more high-tonnage vessels to enter the Aegean region, which will reduce transportation costs.
Mammadov stressed that this and other projects will help to cover current deficit of the Turkish economy.
Speaking about importance of stability in the market, he stated that difficulties were observed last year due to fluctuations in oil prices and exchange rate, however, the situation normalized currently.
Mammadov expressed confidence in more stability this year, voicing belief that this year, oil prices will remain at around 50-60 USD/barrel.
SOCAR Turkey Enerji is involved in several projects conducted in Turkey such as Star oil refinery, Petkim petrochemical complex, Petlim container terminal, SOCAR Fiber etc.
---
Follow us on Twitter @AzerNewsAz