Altay Hasanov: Azerbaijan at forefront of sports countries since long ago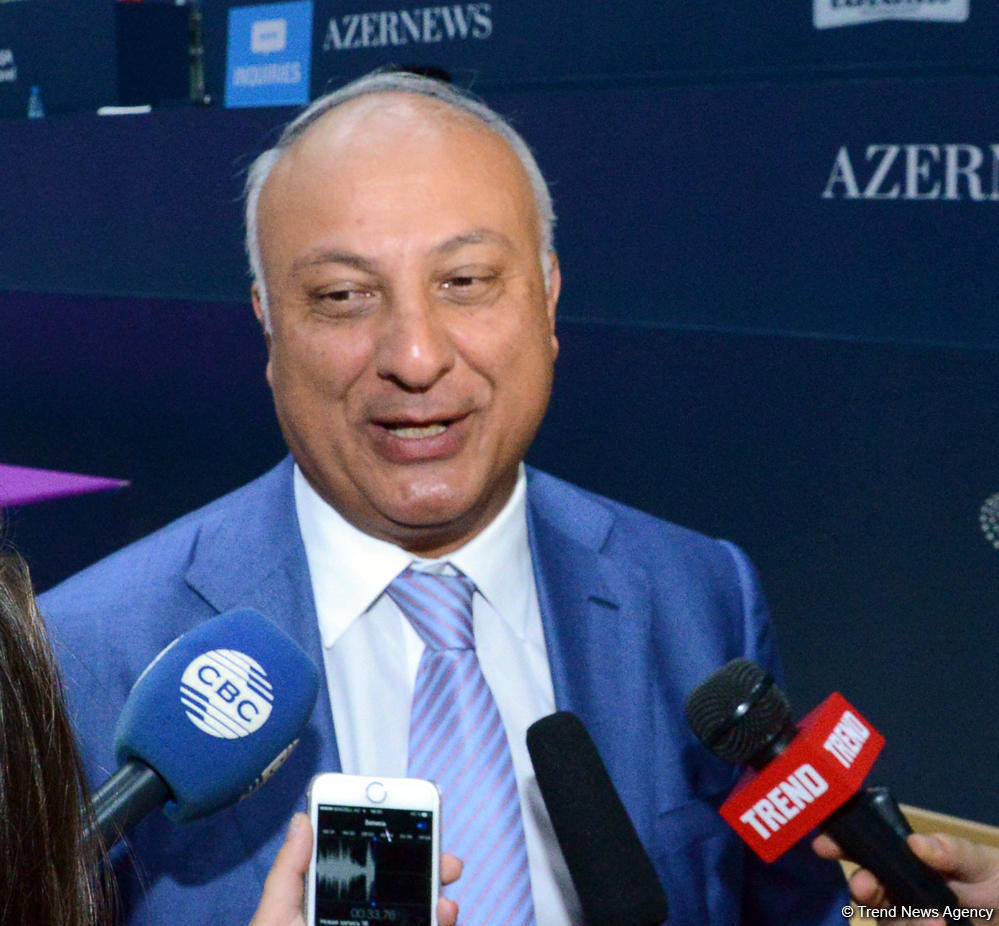 The FIG World Cup Final in Rhythmic Gymnastics held in Baku is the last competition before the Olympic Games to be held in Rio, Vice-President of Azerbaijan Gymnastics Federation (AGF) Altay Hasanov told reporters in Baku July 24.
The privilege of this stage is that the athletes test their skills and this is their last chance, added Hasanov.
Touching upon the performances of Azerbaijani gymnasts, the AGF vice-president noted that Marina Durunda did well, winning bronze medal in the exercises with ribbon in the finals.
"Of course, one always wants to get more medals, more positive emotions from the results, but it is not always possible," said Hasanov.
"Azerbaijan Gymnastics Federation has been holding events of various scales for many years, and it has always been successful," he said.
Azerbaijan can try for even larger scale competitions and the country will cope with it, said Hasanov and emphasized the successful work of Azerbaijan Gymnastics Federation.
He added that Baku is always ready to hold competitions and receive guests, Hasanov said.
The main thing is that as part of sports events, many people come to Azerbaijan, in particular, for participation in gymnastics competitions, added Hasanov.
"I see that people leave [Azerbaijan] as friends. I hope so. It is a very big achievement for our country. People come and leave with good emotions, feelings and hope to come back," he said.
Hasanov pointed out that Azerbaijan has long ago been at the forefront of sports countries.
"Sports events which are held in the country prove that. I believe that the day will come when we will hold World Championships in football, Olympic Games, as Azerbaijan is ready for this and deserves it," said the AGF vice-president.
He pointed out that the guests visiting Baku, in particular, those coming to the city to watch the competitions in gymnastics, sincerely admire the country, the conditions created for sports and gymnastics in particular.
The assessments made by guests during the interviews with local and foreign media fully coincide, which proves their sincerity, according to Hasanov.
When guests give interviews to a local agency, naturally, they express gratitude, give compliments, he said, adding that if they say the same to a foreign agency, it means that they speak sincerely.
Hasanov noted that as always, the competitions are very well covered both by local and foreign information agencies, bringing up Russian "Vestnik Kavkaza" as an example.
---
Follow us on Twitter @AzerNewsAz