16 June 2016 11:28 (UTC+04:00)
2 232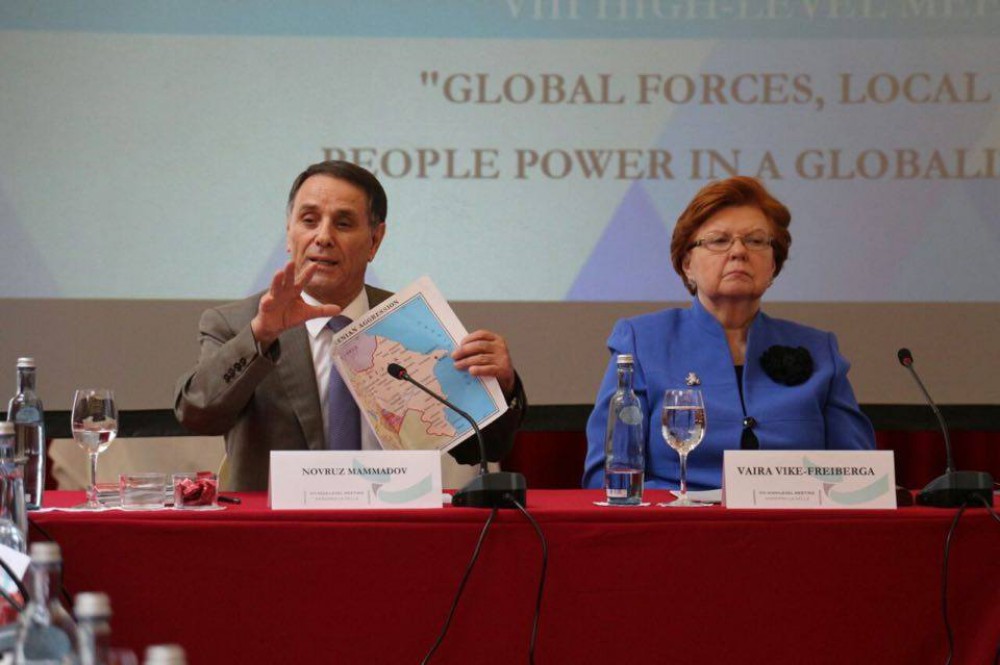 By Gunay Camal
The Armenian-Azerbaijani Nagorno-Karabakh conflict occurred after Warsaw Pact and collapse of the USSR, when there was no justice in the international relations.
Deputy Head of Azerbaijani presidential administration, chief of the administration's foreign relations department Novruz Mammadov made the remark while addressing the 8th High-Level Meeting of Nizami Ganjavi International Center titled "Political Map of the Future" in Andorra, Azertac reported.
"Azerbaijan was able to guarantee stability, security and continued progress in the years of independence. However our problem with the neighboring country prevents our future progress," Mammadov said, pointing to the Nagorno-Karabakh conflict as the key obstacle to the development.
For over two decades, Azerbaijan and Armenia have been locked in conflict, which emerged over Armenia's territorial claims against its South Caucasus neighbor. Armenian armed forces have occupied over 20 percent of Azerbaijan's internationally recognized territory, including Nagorno-Karabakh and seven adjacent regions.
Despite the official ceasefire back in 1994, each year the conflict becomes a cause of the deaths of dozens of civilians and military. The latest outbreak of violence on the contact proved that it is impossible to resolve the conflict by keeping a status quo.
Mammadov went on to say that international law is neglected in the settlement of the conflict and four UN Security Council resolutions have not been implemented. "OSCE Minsk group co-chairs have failed to produce any tangible result for 25 years. All these processes are sacrificed for geopolitical interests. No one mentions rights of the IDPs and refugees who emerged as a result of the occupation of Nagorno-Karabakh and its seven surrounding regions by Armenia," he added.
Today, Azerbaijan with a population of about 10 million is home to more than 1.2 million refugees and IDPs. Every 8th citizen in Azerbaijan is a refugee, which is one of the highest per capita number of refugees.
The bloody Nagorno-Karabakh war left 700,000 civilians of Nagorno-Karabakh and the regions adjoining it, as well as the regions bordering with Armenia and Nagorno-Karabakh without homes. Moreover, 250,000 Azerbaijanis were expelled from Armenia and became refugees due to Armenia's ethnic cleansing policy after the emergence of the Nagorno-Karabakh conflict with Azerbaijan.
The official reminded that during its military provocations in April this year Armenia used white phosphorus bombs and also threatened nuclear strikes, urging the international community to "react timely to such cases".
Former prime minister, member of parliament and other officials of Armenia have declared this April that Armenia has a nuclear weapon, so-called dirty bomb, mentioning that these bombs can be used against Azerbaijan.
Baku turned to corresponding international organizations to examine the statement and stop Armenian nuclear threat and blackmail.
---
Follow us on Twitter @AzerNewsAz
Related News