President Aliyev joins dinner reception hosted by President Obama in Washington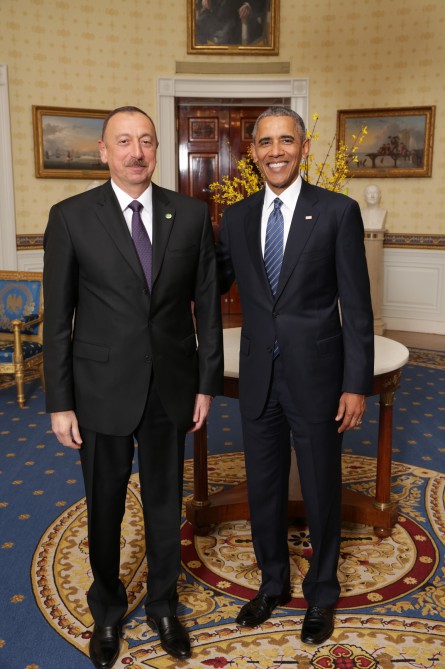 A dinner reception has been hosted on behalf of President of the United States of America Barack Obama in the White House for the heads of state and government attending the Nuclear Security Summit in Washington on March 31.
President Aliyev attended the reception.
During the day, President Aliyev met with vice chairman of General Electric John G. Rice in Washington.
John Rice said the fruitful meetings held during President Aliyev`s U.S. visit were followed with interest.
He highlighted the activity of GE, particularly the company`s work in Azerbaijan. John Rice commended his company`s participation in several projects in Azerbaijan. The Vice Chairman said GE was involved in Azerbaijan`s oil and gas pipelines system, saying they also established cooperation in the field of oil extraction. He stressed that the company operated in the fields of transportation of oil across the world, installation of the equipment producing electric power and gas turbines, aviation and agriculture, and invested in the application of advanced technologies.
President Aliyev hailed General Electric`s activity in various fields of Azerbaijan`s economy. The head of state spoke about work to modernize the Azerbaijani economy, implement infrastructure projects and improve business environment. They exchanged views over cooperation prospects.
The President also met with public figures of the United States - President of Armitage International Richard L. Armitage and president of the Carnegie Endowment for International Peace William J. Burns.
They exchanged views over the enhancement and strengthening of relations between Azerbaijan and the US.
They hailed good cooperation between Azerbaijan and the US in energy, security and peacekeeping, and other fields.
The sides noted the fact that relations between the two countries were built on solid foundations, saying the ties now entered a new level. They expressed confidence that Azerbaijani-US cooperation would further expand and strengthen in all areas.
Negotiations over the settlement of the Armenian-Azerbaijani Nagorno-Karabakh conflict were also discussed at the meeting.
President Ilham Aliyev further met with Chairman and President of Export-Import Bank of the United States Fred P. Hochberg.
They discussed the expansion of relations between Azerbaijan and Ex-Im Bank, and stressed the importance of studying the prospects for cooperation in various fields.
They exchanged views over opportunities for cooperation with Ex-Im Bank on several projects to be implemented in Azerbaijan, as well as in the fields of electric power, gas, irrigation and cotton growing.
The implementation of a new reforms program in Azerbaijan was stressed during the meeting. It was noted that this paved the way for business activities. Important measures taken to eliminate the Azerbaijani economy`s dependence on oil was underscored.
Also, President Aliyev met with former Governor of the State of New Hampshire, US, and White House Former Chief of Staff under President George H. W. Bush, John Sununu.
They exchanged views on current state and future development of relations between Azerbaijan and the US.
---
Follow us on Twitter @AzerNewsAz