10 March 2016 15:40 (UTC+04:00)
1 101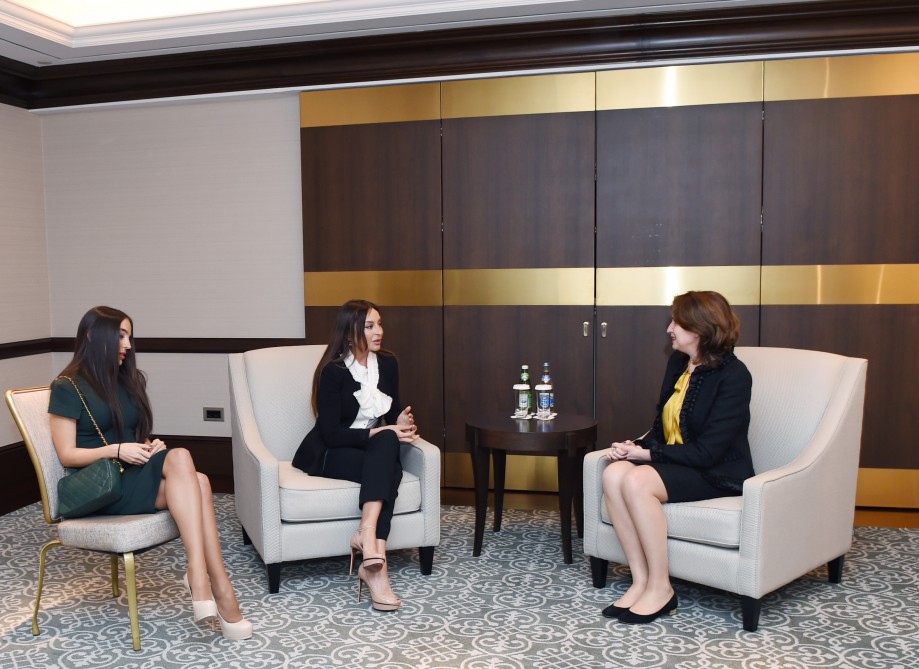 The 4th Global Baku Forum entitled "Towards a Multipolar World" kicked off in Baku on March 10, with participation of President Ilham Aliyev and his spouse Mehriban Aliyeva.
The two-day forum with an important international topics on agenda brought together seven incumbent presidents, 27 former presidents, one vice-president, 23 former prime ministers, a lot of incumbent and former officials, heads of authoritative international organizations, famous politicians and experts.
Azerbaijani First Lady Mehriban Aliyeva held several meetings on the sidelines of the Forum attended by over 300 delegates from 53 countries.
Mrs. Aliyeva first met with Albanian First Lady Odeta Nishani, who attends the 4th Global Baku Forum.
Stressing the importance of the Global Baku Forum, President of the Heydar Aliyev Foundation Mehriban Aliyeva said the Baku visit was a good opportunity for the Albanian first lady to closely familiarize herself with Azerbaijan.
Odeta Nishani thanked Mrs. Aliyeva for inviting her to the Forum. Saying it was her first trip to Azerbaijan, Odeta Nishani noted that she was deeply impressed by the beauty of Baku.
Then, Mrs. Aliyeva met with former first lady of Latvia Lilita Zatlere.
The Azerbaijani first lady said she was pleased to see Lilita Zatlere in Baku again. She stressed the significance of the 4th Global Baku Forum in discussing a number of issues of global concern.
Mrs. Zatlere expressed her confidence that the issues discussed at the 4th Global Baku Forum would make a vital contribution to ensuring global security.
"Azerbaijan and ISESCO enjoy close cooperation," said Mrs. Aliyeva in a meeting with ISESCO Director General Abdulaziz Othman Altwaijri.
The first lady expressed her confidence that the discussions held at the 4th Global Baku Forum would contribute to the resolution of a number of issues of global concern. "Azerbaijan is always open for friends," she said.
The fourth Global Baku Forum is organized by the Nizami Ganjavi International Center in partnership with the Interaction Council, the Club of Madrid, Library of Alexandria, the Club of Rome and the World Academy of Science and Culture.
The two-day forum is focused on topical issues such as the role of interreligious dialogue in conflict prevention, migration, multiculturalism and integration, global security. The forum's agenda also includes prospects for energy and global management issues.
Related News