27 October 2014 17:00 (UTC+04:00)
740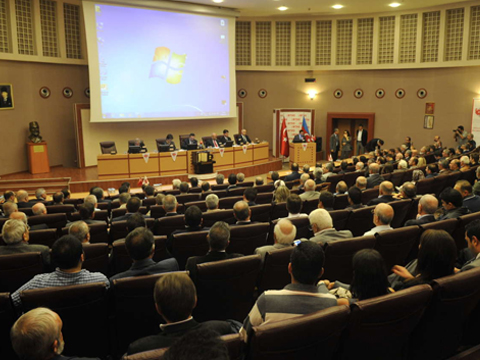 By Mushvig Mehdiyev
Turkey's ancient city Bursa hosted a conference on "The occupation of Nagorno-Karabakh from the Standpoint of International Law" on October 27 through the organization of the International Project Management Association.
The IPMA arranged the event under the grant tender announced by the Council of State Support to NGOs under the President of Azerbaijan.
Addressing the event, IPMA President, Professor Cetin Elmas spoke about the importance of the project. He said the occupation of Azerbaijani lands by Armenian forces was a flagrant violation of international legal principles.
IPMA is a union of over 55 Member Associations worldwide. IPMA members develop project management competencies in their geographic areas of influence by interacting with thousands of practitioners and developing relationships with corporations, government agencies, universities and colleges, as well as training organizations and consulting companies. The organization actively promotes competence in project management for individuals, project teams, businesses, organizations and government agencies around the World.
Major speakers to the conference, which involved experts and representatives of civil society and media, included Professor Hasan Tunc, Executive Director of the Council Farasat Gurbanov.
The speakers noted the importance of resolving the Nagorno-Karabakh conflict based on the territorial integrity of Azerbaijan and called on the international community to pay more attention to the ongoing problem.
The Nagorno-Karabakh conflict emerged in 1988 when Armenia made territorial claims against Azerbaijan. Since a lengthy war in the early 1990s that displaced over one million Azerbaijanis, Armenian armed forces have occupied over 20 percent of Azerbaijan's internationally recognized territory, including Nagorno-Karabakh and seven adjacent regions. The UN Security Council's four resolutions on Armenian withdrawal have not been enforced to this day.
Peace talks, mediated by Russia, France and the U.S. through the OSCE Minsk Group, are underway on the basis of a peace outline proposed by the Minsk Group co-chairs and dubbed the Madrid Principles. The negotiations have been largely fruitless so far.
Related News