26 May 2014 12:44 (UTC+04:00)
1 289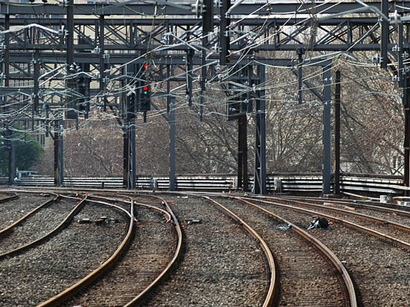 By Nazrin Gadimova
The construction of the Nakhchivan-Kars railway, to be the second rail line connecting Azerbaijan and Turkey, is a topical issue, deputy head of the General Directorate of Turkish State Railways Nazim Bukulmez told Trend on May 23.
'The timeframe for implementing this project hasn't been defined, however, the preparations on it are underway," Bukulmez said.
Head of the Azerbaijan Railways CJSC Arif Asgarov said earlier the Azerbaijani side will re-develop the railway independently, while the construction process in the Turkish section will also be considered. Turkish side can implement this work independently, but Azerbaijani side's participation in any form in this process is not excluded.
Within the project it is planned to reconstruct the section from the border with Iran to Nakhchivan's Sadarak district, and to lay ten more kilometers of lines with the Nakhchivan- Kars railway project.
One billion manat is required for the Nakhchivan-Kars railway project's implementation, according to the preliminary data.
Bukulmez, in turn, emphasized the importance of construction of the Baku-Tbilisi-Kars railway designed to connect the railway systems of Azerbaijan, Georgia and Turkey.
"The Baku-Tbilisi-Kars railway will allow transportation of cargoes from Central Asia to Europe through Azerbaijan, Georgia and Turkey," he stressed.
Construction of a new 105-kilometer branch of the railroad as a part of the Baku-Tbilisi-Kars project is planned. Moreover, the railway's Akhalkalaki-Marabda-Tbilisi section will be reconstructed in Georgia, and this will increase its capacity to 15 million tonnes of cargo per year. A depot in Akhalkalaki will be built to transition trains from the existing tracks in Georgia to the European ones.
The peak capacity of the corridor will be 17 million tonnes of cargo per year. This figure will be at the level of one million passengers and 6.5 million tonnes of cargo at the initial stage.
Completion of the construction of the Baku-Tbilisi-Kars railway, which will connect Azerbaijan and Turkey, will be possible by mid-2015.
Related News