Azerbaijan gives last honors to Vugar Gashimov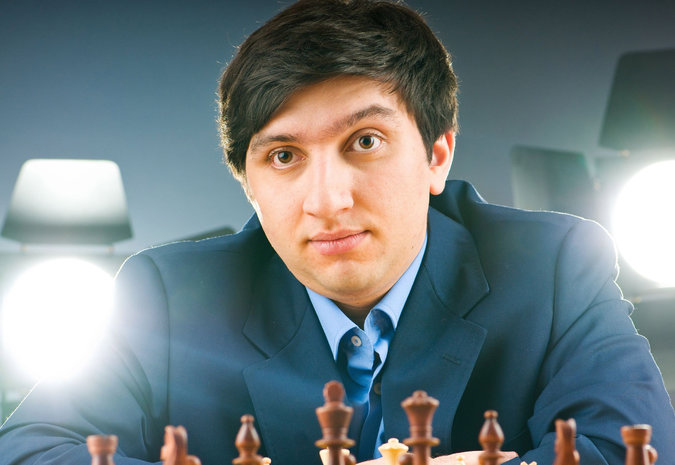 By Nazrin Gadimova
Azerbaijan is giving the last honor to its champion and outstanding chess player Vugar Gashimov, whose star has extinguished very prematurely.
The tragic news about the death of the international grandmaster has shocked the majority of Azerbaijanis and almost the entire sports community.
Vugar Gashimov, born in Baku in 1986, was taught to play chess by his father when he was six years old. Gashimov became Azerbaijan's champion for three times: in 1995, 1996, and 1998. He was also the silver medalist of the European youth championship for four times (1996-2000).
Azerbaijani grandmaster played for Azerbaijan's national team in Chess Olympiads in 2002, 2004, 2006, and 2008 and was a member of the Azerbaijani team that played against the world team in Baku in the Cup of the Azerbaijani President of Azerbaijan, held on May 7-9, 2009.
Gashimov won a bronze medal in the European Team Championship in 2007, and became the European Champion with the national team in 2009 (it was Vugar who provided his team with a decisive point in the final round). He also became the European vice-champion in the national team in 2011, and the winner of the Reggio Emilia tournament in 2010-2011.
Gashimov was known as a strong player in blitz. Together with Teymur Rajabov and Shahriyar Mammadyarov, he was considered one of the elite chess players of Azerbaijan. His achievements were praised by national leader Heydar Aliyev, who received him twice in January and December, 1998. Azerbaijani President Ilham Aliyev also received the young Gashimov who was part of the Azerbaijani national team, which had won the European Championship in Serbia in 2009. But a severe illness forced him to quit the competitions.
After his early successes, Gashimov had to put his activities on hold for a while and have surgery. The disease surfaced again in 2011, when he suddenly lost consciousness during a match against the French national team in the European Championship. Then a long-term treatment in Switzerland and Germany began, but he failed to beat the disease.
Vugar loved Azerbaijan and was at the forefront of promoting his country abroad. He was a fighter who fought till the end.
He once said in one of his interviews, "Nothing is dearer to me than Azerbaijan. I promised the President to do my best to promote my country and earn Azerbaijan success. How can I disregard the promise given to a man to whom we owe so much?"
News of his death brought a flood of condolences and comments. Azerbaijan's Youth and Sports Minister Azad Rahimov said Vugar Gashimov's passing away is a very big loss for the Azerbaijani nation and the country's sports.

"Vugar Gashimov, who was still very young, talented, and one of the best chess players in the world, is not with us today," the minister said.
Current leader of the world rating Norwegian grandmaster Magnus Carlsen tweeted a message after the death of his "sincere friend".
"Very sad to hear about the passing of Vugar Gashimov, one of the most talented and original players I've met. Always friendly with everyone," he said.
Azerbaijani grand master Gadir Huseynov, in turn, said Vugar was one of the strongest and most talented chess players in the world.
"He was a nice person, an excellent friend, and a good fellow in the team. You could always rely on him. He was always ready to help, and he helped. He was a kind-hearted, cheerful and positive person. It is a great loss for us. I cannot still believe it. It is very painful to perceive that one of my dearest friends has died," Huseynov said.
Teymur Rajabov, another teammate of Gashimov's, described Vugar's death as "horrible".
"Very very very sad news. Horrible. We knew he was very ill, but hoped he could survive in this fight."
Messages of condolence to Vugar's family have been posted on the websites of the International Chess Federation, Russian Chess Federation, European Chess Union, and Turkish Chess Federation, with many top-ranking players expressing their sorrow through social networks.
FIDE Vice President and President of the Turkish Chess Federation Ali Nihat Yazici said a star stopped shining today, while US famous chess player Hikaru Nakamura said Vugar Gashimov was a very creative and exciting player whose games will not be forgotten. Moreover, Ukraine's Pavel Eljanov, UK's Nigel Short, and Russia's Alexandra Kosteniuk expressed their deepest condolences to Gashimov's family and relatives.
New York Times, one of the most famous newspapers of the world has published an article by journalist Dylan Loeb McClain on the untimely death of the outstanding Azerbaijani grandmaster.
Vugar Gashimov will be buried in the third Alley of Honors, and a farewell ceremony is taking place in the Republican Chess Center.
Rest in Peace, Vugar, Azerbaijan has lost its outstanding son.