IBA – Moscow opens Yekaterinburg branch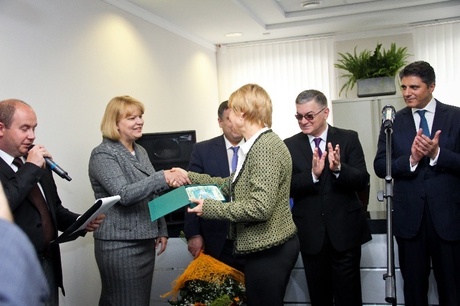 A branch of the International Bank of Azerbaijan (IBA) - Moscow was inaugurated in Yekaterinburg on September 30, the Consulate General of Azerbaijan reported.
The event was attended by vice-governor of the Sverdlovsk Province Yakov Silin, Azerbaijan`s consul general Sultan Gasimov, IBA - Moscow Chief Fuad Abdullayev, deputy chairman of Legislative Assembly of the Sverdlovsk Province Yelena Chechunova, head of Russian Foreign Ministry`s representation in Yekaterinburg Alexander Kharlov and chairman of Azerbaijani Diaspora in the province Shahin Shikhlinsky.
Addressing the event, Gasimov stressed the importance of opening of new branch of IBA-Moscow in terms of further expanding economic relations.
He characterized Azerbaijan-Russia relations as "strategic partnership and friendly neighborhood". The consul general also briefed on Azerbaijan`s dynamic economic development.
IBA-Moscow is a subsidiary bank of the IBA in Moscow, Russia. IBA-Moscow is a registered Russian limited liability company. International Bank of Azerbaijan - Moscow (IBA-Moscow) passed registration in 2002. The sole participant of the bank, which was established as a limited liability company with 100% foreign capital, is Baku-based International Bank of Azerbaijan (IBA).
IBA-Moscow's primary targets, expectedly, are to deepen trade and economic ties between Russia and Azerbaijan, provide services to Azerbaijani natives who live in Russia and to present the parent bank's interests. The bank operates 2 branches (in Saint Petersburg and Ekaterinburg), 10 divisions, 3 operating cash desks, and also 50 ATMs and 100 POS terminals. The lender's headcount exceeds 300 people (estimate). The bank holds a general license and is a member of the national deposit insurance system. The bank issued over 17,000 plastic cards and executed more than 100 payroll projects. The bank aggressively rolls out account-free wire transfers, including via payment systems Contact, Migom, Golden Crown and Western Union. The bank serves over 15,000 people who permanently wire funds to/from Russia and Azerbaijan.