NATO appreciates Azerbaijan's support for Afghanistan peacekeeping efforts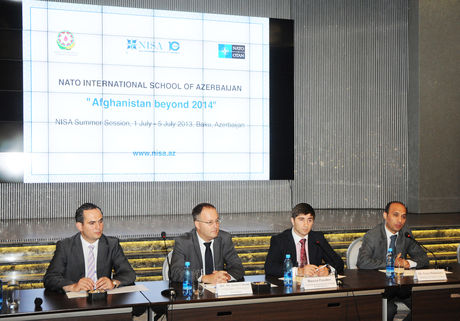 By Aynur Jafarova
NATO appreciates Azerbaijan's support for the peacekeeping operations in Afghanistan, Romanian Ambassador, NATO coordinator in Azerbaijan Daniel Cristian Ciobanu said during the summer session of NATO International School of Azerbaijan (NİSA) in Baku on July 1.
Reciprocal visits of senior representatives of both sides have made an invaluable contribution to the development of cooperation between Azerbaijan and the alliance, the diplomat said.
Ciobanu went on to say that Azerbaijan is the first non-NATO member that has announced that it would continue to support Afghanistan after 2014, referring to the period following troop withdrawal from the post-war country.
The summer session of NISA, dedicated to the topic "Afghanistan beyond 2014", started in Baku on July 1 and will continue till July 5. The event is attended by 40 students and scholars from Azerbaijan, Pakistan, Romania, Tajikistan and Ukraine.
Speaking at the session, NISA director Huseyn Panahov said that the goal of the event is to exchange opinions about the problems Afghanistan would face after 2014, opportunities for further development of the country as well as regional and international cooperation strategies.
The cooperation between Azerbaijan and NATO covers a variety of areas, including security, emergencies, mine clearance and military reform.
NATO and Azerbaijan are actively cooperating on democratic, institutional and military reforms, as well as on the issues of conducting practical cooperation in various areas. The program of cooperation between Azerbaijan and NATO is set out in the Individual Partnership Action Plan (IPAP) on Azerbaijan.
Azerbaijan aspires to achieve Euro-Atlantic standards and draw closer to Euro-Atlantic institutions. In this regard, support for security sector reform and creation of democratic institutions are the key elements of the NATO-Azerbaijan cooperation.
Moreover, Azerbaijan is among the eight partner countries that have confirmed their presence in Afghanistan after 2014. Peacekeepers of the country will stay in Afghanistan after the withdrawal of US troops from the country by the end of 2014. However, after 2014 Azerbaijan will reduce its contingent in Afghanistan.
The Azerbaijani peacekeeping contingent in Afghanistan consists of 90 servicemen. A company was established as part of the Azerbaijani armed forces in 1997 and then a battalion of peacekeepers. Azerbaijani peacekeepers are part of the International Security Assistance Force (ISAF) in Afghanistan.
In the past, the country actively supported operations of the alliance in Kosovo as well.