10 June 2013 19:18 (UTC+04:00)
1 228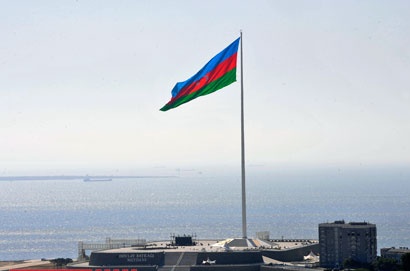 A delegation led by Georgian Minister of Internally Displaced Persons from the Occupied Territories, Accommodation and Refugees David Darakhvelidze visited the National Flag Square in Baku on June 10.
They were told that President Ilham Aliyev signed an order on establishment of National Flag Square in Baku on November 17, 2007. The same day, the President signed another order to declare November 9 as the National Flag Day.
The foundation stone for the National Flag Square was laid on December 30, 2007 with the participation of President Ilham Aliyev.
The inauguration ceremony opening of the National Flag Square took place on September 1, 2010.
Confirmed by the Guinness Book of Records, the flag flies on a pole 162 meters high and measures 70 by 35 meters.
The delegation also became familiar with the National Flag Museum established on the initiative of President Aliyev.
The museum features flags and emblems of states existed in the territory of Azerbaijan as well as khanates, constitutions of Azerbaijan adopted in past years, postal stamps, banknotes, orders, medals, flags kissed at the inauguration ceremonies by national leader Heydar Aliyev and President Ilham Aliyev, flag of Supreme Commander-in-chief and ceremonial costumes.
The Georgian minister was presented with a keepsake, and was informed on the construction of the grandiose Baku Crystal Hall, the venue of the Eurovision Song Contest 2012.
Related News