Prisoners pardoned by Azerbaijani president being released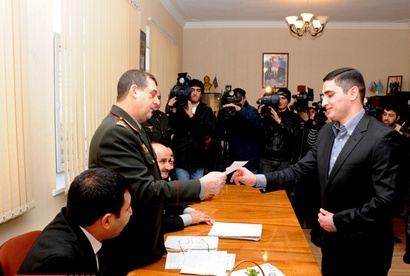 The prisoners pardoned by Azerbaijani President Ilham Aliyev's decree are being released, Trend news agency reported on Thursday.
The president pardoned 79 of those sentenced to imprisonment, four of the people serving conditional sentences, and four others who faced fines.
The list of the pardoned includes journalists Aydin Janiyev and Anar Bayramli, rights defenders Vidadi Iskandarli and Taleh Khasmammadov, and department head of the Azerbaijan Popular Front Party Shahin Hasanli.
There are also Iranian, Georgian, Nigerian, Turkish and Bangladeshi citizens among those pardoned.
Employees of the Azerbaijani Ombudsman's office, public and media representatives are involved in executing the pardon decree.
While executing the pardon order, deputy head of the penitentiary service under the Azerbaijani Justice Ministry Huseyn Alikhanov expressed confidence that the pardoned individuals will not commit crimes again.
Human rights activist, MP Chingiz Ganizade said many pardon orders have been adopted in Azerbaijan and the last presidential order is another humane act.
So far around 5,530 individuals have been pardoned in Azerbaijan.