Turkish president congratulates Azerbaijan with Victory Day [UPDATE]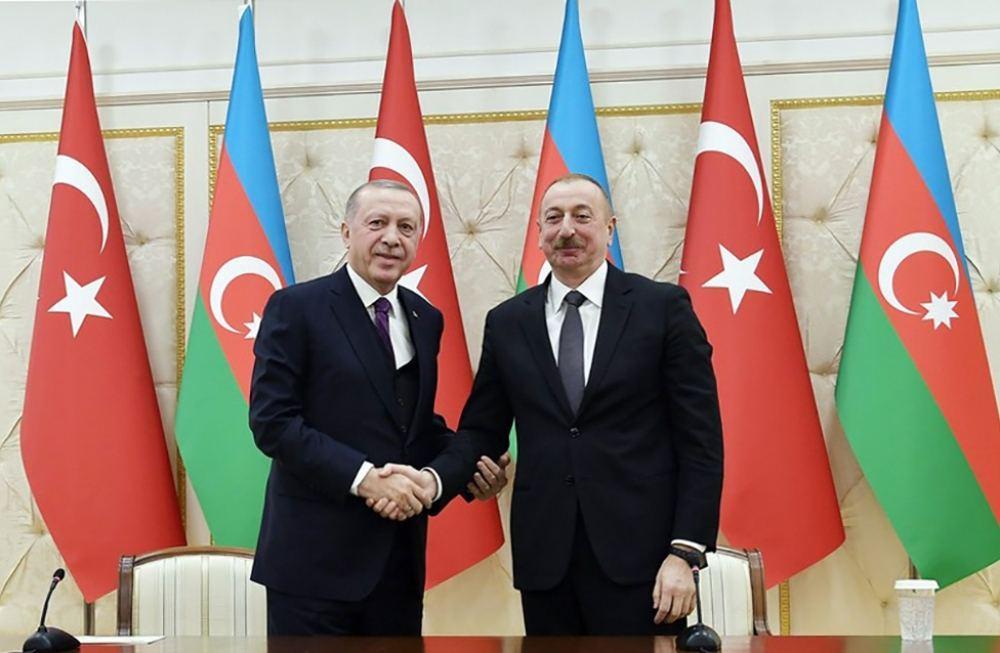 Turkish President Recep Tayyip Erdogan congratulated Azerbaijan on the occasion of November 8 - Victory Day [commemorating the liberation of Azerbaijani territories from Armenian occupation in the 2020 Second Karabakh war] during the phone conversation with Azerbaijani President Ilham Aliyev on November 8.
Erdogan conveyed his wishes of peace, well-being and prosperity to the fraternal people of Azerbaijan. The President of Turkey said wished for the peace of the souls of the martyrs who died in the Patriotic War.
President Aliyev thanked Erdogan for his attention and congratulations.
Expressing again the appreciation for the support Turkey and personally Recep Tayyip Erdogan provided for this Victory, Aliyev emphasized that it was the decisive position and statements of the Turkish President from the first days of the war that showed the world that Azerbaijan was not alone and that Turkey was next to it. He stressed that all this provided tremendous moral support for the people and the army.
The head of state noted that the recent visit of the Turkish President to Fuzuli and Zangilan regions was another manifestation of the Azerbaijani-Turkish brotherhood.
He also noted that the Victory was another bright page of the Azerbaijani-Turkish brotherhood and unity.
During the telephone conversation, the sides expressed their confidence that friendly and fraternal relations between the two countries would continue to develop successfully in all spheres and that Azerbaijan and Turkey would always be next to each other.
Additionally, the Turkish President shared a post on his official Twitter page on the occasion on November 8 - Victory Day.
"I sincerely congratulate Azerbaijan on the glorious victory that marked the liberation of the lands in Karabakh. I honor the memory of the heroes who gave their lives in the name of the Motherland, I thank the veterans," wrote Erdogan.
Azerbaijan and Turkey cooperate in various fields of economy and have jointly completed giant energy and infrastructure projects such as Baku-Tbilisi-Ceyhan, Baku-Tbilisi-Kars, and TANAP.
Eleven agreements were signed between the two countries within the Azerbaijani-Turkish business forum held in Ankara on February 18. The agreements envisage the development of Azerbaijani-Turkish cooperation in the economic, trade, and other spheres.
On June 15, Azerbaijan and Turkey signed the Shusha Declaration on Allied Relations, which focuses on defence cooperation, promoting regional stability and prosperity, and establishing new transportation routes.
In the first nine months of 2021, the trade turnover between Azerbaijan and Turkey amounted to $3.2 billion. The trade turnover between the two countries amounted to $4.1 billion in 2020.
The two countries set up a goal to bring the mutual trade turnover to $15 billion in 2023. It should be noted that so far, Turkey is Azerbaijan's second-largest investor followed by the UK.
Additionally, Turkey was one of the first countries that expressed its interest and readiness to participate in the restoration of Azerbaijan's liberated territories.
---