1 March 2021 17:33 (UTC+04:00)
2 927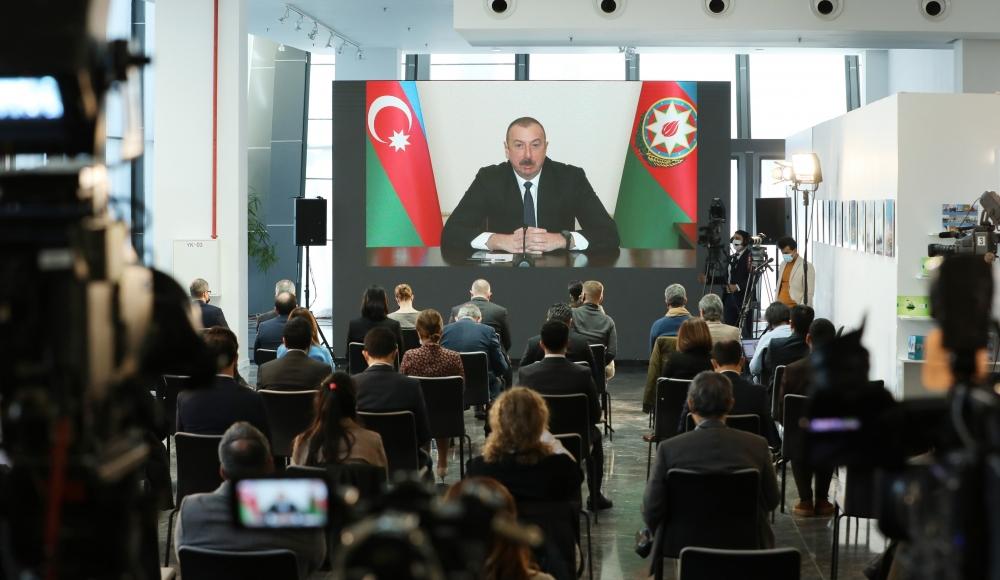 By Vafa Ismayilova
Azerbaijani President Ilham Aliyev has said that despite the political crisis in Armenia the trilateral peace deal he signed with the Russian and Armenian leaders on November 10, 2020, must be fulfilled.
He made the remarks at a news conference for local and foreign media held in Baku on the 29th anniversary day of the Khojaly genocide committed by the Armenian armed forces on February 26.
"There is a total crisis in Armenia today. I would not like to somehow comment on their internal situation. In principle, we never interfere in the internal affairs of other countries, especially at this sensitive time, but the results of the war remain and will remain unchanged. The statement signed on 10 November is being executed and must be fully implemented. A significant part of the provisions of this Statement [trilateral Karabakh peace deal] has already been implemented. But there are issues that are a topic of discussion today. I hope that despite the situation in Armenia, the statement signed on 10 November will be implemented. Otherwise, Armenia will find itself in an even more difficult situation. In other words, there is not so much choice before Armenia. They need to come to terms with the new reality. We have created the new reality," he said.
Commenting on any Armenian attempt to curb the fulfillment of the deal, Aliyev said, quoting his Russian counterpart Vladimir Putin "that will be a suicide".
"That is exactly the word because it will be only worse. Therefore, today in Armenia they should understand that the situation which they found themselves is the result of their long-lasting policy against Azerbaijan, is the result of the occupation. It is not only what happened in the last two years or three-four months. It is just because of the occupation," he noted.
Aliyev noted that Azerbaijan has been waiting for the end of the conflict for 30 years. He added that Azerbaijan had to give a relevant response to Armenia's provocation in September 2020, which was preceded by a number of military provocations in July and August.
"Therefore, when the question is asked what a sustainable peace can be like, it can only be when there is a demonstration of commitment to the 10 November statement."
Aliyev stressed that the only way to ensure sustainable peace and security in the region was collaboration.
"Today we are discussing the issue of permanent, sustainable peace and security in the region. The only way to do this is through collaboration. Our goal is to restore communications already in a trilateral manner – together with Armenia and Russia, create the Zangazur corridor and remove all transport obstacles. If this happens, then Armenia will also benefit. They will also see the benefits of peace," he said.
The head of state added that another condition for Azerbaijan in terms of peace is that political circles of Armenia should understand that any attempts at revenge will be severely punished by Azerbaijan.
"If we see any threat, if we consider it a serious threat to ourselves, then an immediate response will follow. Therefore, I warn that there should not be any attempts at exacting revenge. Armenia must fully implement the statement of 10 November, and peace will come to the region gradually, in a step-by-step manner," Aliyev said.
Maps of minefields
The president noted that Azerbaijan provides security on liberated territories through regular raids and monitoring.
"We provide a sufficient level of security of the liberated territories, conduct regular raids and monitoring – both using unmanned aerial vehicles and visual monitoring. Therefore, the situation is fully under control," he said.
Aliyev described Armenia's failure to provide the maps of mined areas ion liberated lands as the main difficulty for Azerbaijan.
"The main difficulty is mining. The Armenian side did not provide us with maps of minefields. This, in fact, can also be considered a crime because we have had several cases both among military personnel and among civilians when people died after the end of the hostilities only because we were not provided with maps of minefields. With the resources we have today, it is impossible to ensure rapid demining. So here too, of course, we see the Armenian side acting insincerely yet again, as it says one thing and does something different," the president noted.
Prisoners of war
He underlined that Azerbaijan acts in line with the norms of morality and universal human behaviour.
"We handed over the prisoners of war to them and bodies of the dead to them. After the war, more than a thousand bodies of Armenian servicemen were found on the liberated territories together with representatives of the Armenian side, the peacekeeping mission and our representatives, and they were handed over to the Armenian side. We act in accordance with the norms of morality and universal human behavior. But not to give us maps of minefields means to deliberate doom civilians and military personnel to death and injury. What kind of cooperation can we talk about? In this case, cooperation cannot be one-sided," the head of state said.
Speaking about Armenians detained on liberated territories after the signing of the Karabakh peace deal, he described them as terrorists and saboteurs.
"There cannot be a prisoner of war 20 days after the war. We returned them all the prisoners of war we had. In fact, we returned them earlier than they returned ours. These people do not fall into this category. These are terrorists and saboteurs." Aliyev said.
"After the hostilities ended, a detachment of more than 60 people was dispatched from Armenia, from Shirak region, from the city of Gyumri and surrounding regions in the last 10 days of November. It is not clear how, but it made its way into the territories controlled by the Azerbaijani army through the Lachin corridor. As you know, after the end of hostilities, on 10 November, the peacekeeping troops of the Russian Federation published maps showing the areas of responsibility of the peacekeepers. These maps are always on the web site. So after the end of hostilities, we discovered that there were Armenian armed formations in the deep rear. First, we received information that they had lost their way, that they could not get out of the encirclement, and for some time the Azerbaijani servicemen, together with the peacekeeping mission, thinking that they were lost, tried to help these people and take them back. But it turned out that this was not the case. It turned out that it was a sabotage group that carried out attacks both on our military personnel and on civilians. As a result of their acts of sabotage and terrorist attacks, four of our servicemen and one civilian was killed. He was a representative of a mobile operator who was ambushed while travelling to the city of Shusha. Several people were also wounded," the president added.
He pointed out that Azerbaijan returned to Armenia all POWs and any speculation by Armenia on this subject is inappropriate.
"Of course, we carried out a counter-terrorist operation, as a result of which several terrorists were completely neutralized and more than 60 were captured. When some people try to describe them as prisoners of war today, I think they are deliberately distorting the essence of the issue. There cannot be a prisoner of war 20 days after the war. We returned them all the prisoners of war we had. In fact, we returned them earlier than they returned ours. These people do not fall into this category. These are terrorists and saboteurs. So any speculation on the part of Armenia or some countries is inappropriate," Aliyev said.
New realities
The head of state said that Azerbaijan has created a new reality and Armenia along with other countries must come to terms with it.
"For 30 years, international organizations dealing with this issue, as well as individual countries, were sending us open or unofficial messages that there is reality that Azerbaijan is the side that has lost in the war and that we, as they believed, should come to terms with the reality… We, as you know, have always rejected such calls, never deviated from our position, and I openly declared that. And now it is my saying that a new reality has taken shape and that we have created this new reality. Armenia, as well as all other countries, must come to terms with this reality. Armenia has several options today, and the most acceptable of them is to fulfill the provisions of the Statement of 10 November. Otherwise, they may face even bigger problems," Aliyev said.
He stressed that Armenia today is in such a difficult situation that the processes taking place there to a large extent undermine the foundations of the country's statehood. The previous and current leaders of Armenia are to blame for this because the Kocharyan-Sargsyan junta actually led Armenia to an abyss and crisis for 20 years.
"The country has practically lost all signs of independence. It resembled a colony. The main reason for this is the occupying policy because the longer they tried to keep our lands under occupation, the deeper their dependent position became," the president said.
Azerbaijani-Armenian co-existence
Aliyev ruled out any tension between Armenian civilians and Azerbaijani border guards on liberated territories that border Armenia.
"Currently, there is no Azerbaijani army in the direction of eastern Zangazur we have liberated, on the border with Zangilan. There is the State Border Service of Azerbaijan there. Notice that there is no tension between the Armenian civilian population and Azerbaijani border guards. A peaceful life continues. We approached the border, settled there, but did not cross it. Currently, some of the villages are located on our territory and there are no Armenian armed forces there. Armenia did not even have a state border service, because I can tell you that the Armenian border with Turkey and Iran is guarded by Russian troops. So we stand on our border. We are not taking any negative steps towards the Armenian population," he said.
He added that the 20-km road connecting Armenian cities passes through the territory of Azerbaijan.
"We have created this opportunity. We even put up a big poster there: Welcome to Azerbaijan! I can't understand why this irritates Armenia in any way. Honestly, I don't understand this because the vehicles passing there, the people should see that they are entering Azerbaijan, are using the territory of Azerbaijan quietly, and there are no problems. Therefore, we do not have to strive for anything else to achieve sustainable peace. We have returned what is ours and demonstrated that our words and deeds have equal value."
Aliyev stressed that Azerbaijan had no problems with the Armenian people.
"We have a clear idea of the further coexistence of the Azerbaijani and Armenian peoples. I spoke about this during the war, more than once," the head of state said.
He regretted that Armenia had not voiced similar statements.
"Unfortunately, we did not hear such statements from Armenian leaders during the war. On the contrary, there were statements full of hostility and hatred. Meanwhile, I was saying that we have no problems with the Armenian people. Armenians are our citizens. Thousands of Armenians live in Azerbaijan. Our treatment of Armenian prisoners during the war confirms this again," the president said.
Russian-Turkish Monitoring Centre
The head of state expressed the hope that the Russian-Turkish Monitoring Centre will function as a very important instrument for the post-war period.
"As for the activities of the Russian-Turkish Monitoring Center, I can say that this is partly reflected in the statement signed on 10 November. It did not specify that there would be a Russian-Turkish monitoring centre. But when agreeing on this statement, we stipulated that. Azerbaijan has created this monitoring centre near the village of Marzili in Aghdam district at its own expense. All conditions have been created. As you know, the monitoring centre is now in operation and its main goal is to exercise control in the post-war period, to conduct monitoring using drones in order to prevent any confrontation in this conflict zone and, if this happens, to establish who was the instigator, who is guilty. So far, with the exception of the sabotage group sent to Azerbaijan, as I mentioned earlier, there has been no serious confrontation. I believe that this monitoring centre will function as a very important instrument for the post-war period," the head of state said.
Asked about the participation of Russian companies in rebuilding the liberated lands, Aliyev confirmed that those companies will be involved in restoration as Azerbaijan will cooperate with friendly countries in this sphere.
"Russia and Azerbaijan are friendly countries. Therefore, naturally, Russian companies will be involved. I think that they may also be interested. We are already receiving applications from various countries for certain types of work. This applies to urban planning. This also applies to the construction of facilities, including infrastructure facilities, roads, bridges, power plants. So the scope of work is immense. The territory of more than 10,000 square kilometers has been liberated. Therefore, I think there is enough work for all the friends of Azerbaijan," the head of state said.
Khojaly genocide
Aliyev said that Azerbaijan avenged Khojaly genocide victims on the battlefield.
"We, for our part, have avenged the victims of Khojaly [genocide] on the battlefield. Having defeated the Armenian army in the 44-day second Karabakh war and liberated our historical lands from invaders, we also avenged the victims of Khojaly. Azerbaijan as a strong state will never allow Armenian fascism to raise its head again, although such tendencies are discernible. Azerbaijan through its activities is contributing to the further development of the region and taking tangible steps to fully establish stability in the region," the president said.
He noted that by committing the Khojaly genocide, Armenia essentially wanted to break the will of the Azerbaijani people. It is no coincidence that the leaders of Armenia, the war criminals, when answering a question about that in an interview with foreign journalists, noted with a sense of pride that Armenia had indeed committed this war crime against the civilian population so that the Azerbaijani people could see that the Armenian leadership could also raise its hand against the civilian population.
"Those who committed the Khojaly genocide are war criminals. Many of them were killed by the Azerbaijani army in the second Karabakh war," Aliyev noted.
He reminded that over 10 countries have officially recognized and confirmed what happened as an act of genocide, and this process continues
"The Azerbaijani state, as well as public organizations of our country, are very active in this area. There is comprehensive information in the world about the Khojaly genocide today. The war crimes of the Armenian state have been documented. Video and photographic materials have been presented to a fairly broad audience. The whole world sees and knows that the Azerbaijani people were subjected to genocide at the end of the 20th century," the head of state said.
He thanked foreign journalists who had arrived in Azerbaijan to cover the Khojay genocide anniversary events.
"Numerous events are being held in Azerbaijan these days, and a large group of journalists has come to Azerbaijan from abroad to cover them. I would like to express my gratitude to you for being in Azerbaijan today to cover these events, to cover this act of genocide. I also know that some of you have visited the liberated lands and seen this destruction with your own eyes. You will continue to travel there. Thank you very much again for that," Aliyev said.
He reiterated that when the Khojaly genocide was committed, the world was silent.
"The world did not want to see this because, as we realized later, it was a picture that somewhat contradicted the prevailing stereotypes. Because when the first Karabakh war began, one might say that most countries believed that Armenia was right and Azerbaijan was wrong. Questions of territorial integrity were set aside and the question of self-determination of nations came to the fore. No-one asked the question: after all, the Armenian people have already determined themselves, they have an independent Armenian state, so why should a second Armenian state be created on historical Azerbaijani land? Nobody has been able to answer this. Therefore, these stereotypes continued to exist for many years."
Aliyev added that Azerbaijan had been treated unfairly over the years.
"Over the years, we were treated unfairly. Have a look – after the collapse of the Soviet Union, the US Congress passed the Freedom Support Act. This law was adopted with the aim of providing assistance to all former Soviet republics. Azerbaijan was excluded from there. Who did that! Representatives of the Armenian lobby. Many of them are still in high positions today. This was done under the pretext that Azerbaijan was allegedly keeping Armenia in a blockade. How could we do this if our lands were occupied? But sanctions were imposed against us. They remain valid to this day. They even have a reference number – Section 907. Section 907 of the Freedom Support Act implies sanctions against us. Could there be such injustice? Those who were in power at that time simply could not do anything to prevent this," the head of state said.
He noted that it took Azerbaijan many years to change the mind of the world and present the truth.
"See how much effort we have put in to prove the obvious truth. The stereotype was that Armenia is always right. Whatever it did, it was always justified. Look how many opposition leaders have been arrested in Armenia over the past few years, how many people have had their rights breached. There were even political killings. Has any international organization condemned them? Not! They are allowed to do anything. We proved our case in struggle and succeeded. Your current visit to Azerbaijan and the communication of our position to the world are, of course, a great contribution to the restoration of justice," Aliyev added.
--
Follow us on Twitter @AzerNewsAz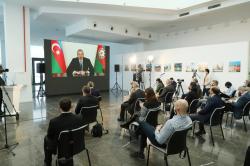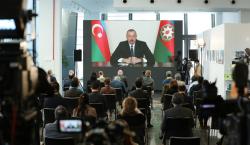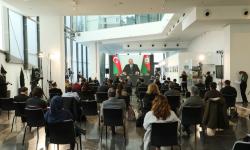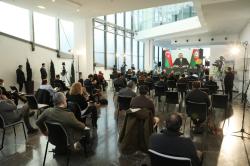 Related News