President Aliyev hails country's fight against corruption, urges further measures [UPDATE]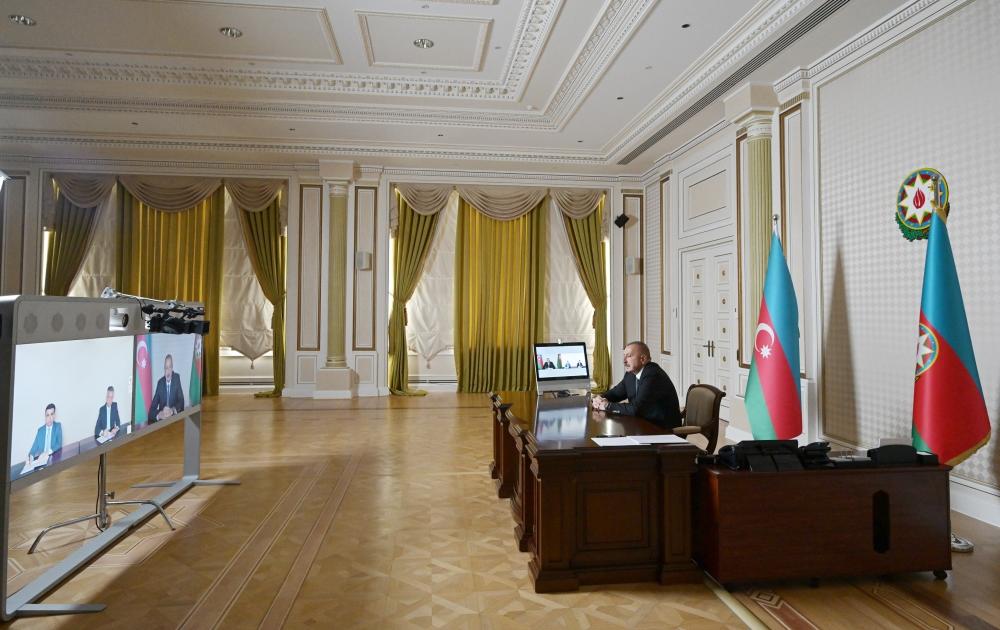 By Akbar Mammadov
President Ilham Aliyev has said that the government is successfully fighting corruption and bribery in the country, saying that favorable business environment has been created as a result of such anti-corruption measures.
Aliyev made the remarks while receiving the newly-appointed Bilasuvar and Saatli District heads Faig Qurbatov and Elmir Baghirov on August 24.
Addressing the meeting held in a video format, Aliyev said: "The fight against corruption and bribery in Azerbaijan is being waged not in word but in deed. This struggle is highly appreciated by the people. I receive thousands of letters from citizens. They welcome my steps and, at the same time, draw my attention to some issues. I am glad that the mechanism of public control has become more organized lately. I welcome that."
The president stressed that business environment in Azerbaijan is improving with every year and the country made historic achievements within the Doing Business program. He reiterated the government's support for local entrepreneurs, stressing that the country must prioritize investing on local businesses as opposed to foreign countries.
"I do not think that it would be right to invest heavily in foreign countries in the current situation. Let the pandemic end, the situation in the oil markets stabilize, economic growth pick up, and then I don't mind, as I haven't done before. But in the current situation, I think this is unacceptable. Of course, we cannot prohibit it in any legal way. Neither do we have such ideas," he noted.
"If Azerbaijani businessmen, including representatives of large businesses, want to invest in foreign countries in the current situation, they will have to justify it and this issue should be in the spotlight," the president said.
Furthermore, the president urged the newly-appointed officials to support local people and entrepreneurs in the districts.
Aliyev stressed that first of all, the situation in the districts should be properly analyzed and the existing shortcomings and deficiencies should be investigated.
"People should be able to feel your support. You have to visit all the villages one by one, meet with the people, learn about the existing problems from them and resolve them. I have said this several times and I want to say again that if the existing problems in all the villages of our country are resolved, we can raise our work to a higher level."
Noting that currently, the fourth regional development program is being implemented in the country, Aliyev said that appeals from the ground have played a special role in the development of these programs. He pointed out that these programs have been developed on the basis of requests from the field and they are being implemented consistently.
"If the first program had not been adopted in 2004 and other programs in the following years, the regions of Azerbaijan would not have developed so much. We have either completed major infrastructure projects in all our regions or are very close to completing them," he added.
Aliyev also touched upon investments in the development of agriculture.
"The direct and indirect investments in the development of agriculture in recent years, including infrastructure projects, have paved the way for major growth. There are no problems with the provision of machinery. Very important steps have been taken to make government subsidies more transparent, reforms have been carried out. A more comfortable system has been created for farmers; a very transparent system has been created."
The president emphasized that the development of entrepreneurship is directly related to the overall development of the country. He noted that the country's economy must maintain and strengthen its sustainability.
"In order to achieve this, of course, our non-oil sector must develop. This development was very fast until 2020. Due to the pandemic, an economic downturn is observed in all countries, including ours. But this figure is quite low in our country," Aliyev said.
Noting that the country's economy fell by only 2.8 per cent in the first seven months of 2020, Aliyev said that in some developed countries, this figure has reached 30 per cent, while in Europe it has reached 20 per cent.
"It averages about 15 per cent in the Eurozone. Therefore, I think that the low level of this figure in Azerbaijan should be viewed as a great achievement on our part," he added.
Furthermore, the president raised the issue of the artificial impediments for entrepreneurs in some districts.
"Unfortunately, entrepreneurs in some districts are treated unfairly, artificial barriers are created for them, local executive bodies ask them for bribes or a share in their business. Obviously this must not be allowed and there must be rigorous control over these issues."
Aliyev stressed that entrepreneurs should only receive support and assistance from government officials. "Entrepreneurs should only pay state taxes. No money should be paid to anyone else," he added.
Aliyev pointed out that but the government can exercise control over this, and relevant agencies of Azerbaijan should pay serious attention to this.
---
Akbar Mammadov is AzerNews' staff journalist, follow him on Twitter: @AkbarMammadov97
Follow us on Twitter @AzerNewsAz