27 April 2017 17:42 (UTC+04:00)
2 605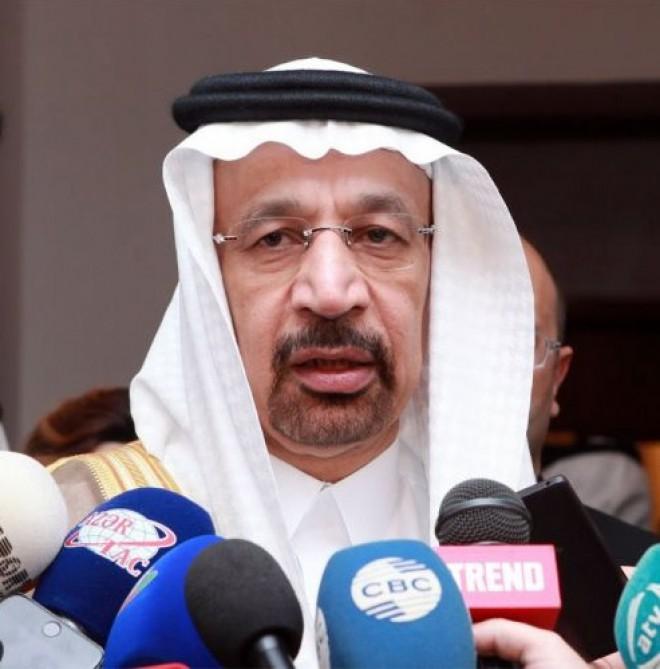 By Gulgiz Muradova
Azerbaijan and Saudi Arabia took another step forward this week in bolstering the energy cooperation, which can play a significant role in the economies of the two energy-rich nations.
Talks on the partnership in the energy sector, cooperation within oil cut deal and investment opportunities dominated the talks held in Baku within a visit of a delegation led by Minister of Energy, Industry and Mineral Resources of the Kingdom of Saudi Arabia Khalid Abdulaziz Al-Falih.
President Ilham Aliyev, who received Al-Falih on April 26 stressed that Azerbaijan is interested in expanding relations with Saudi Arabia in various areas.
Praising the high level of political ties, the President underlined the necessity of taking this opportunity to develop the economic cooperation and increase the bilateral trade and mutual export.
Stressing the significance of developing energy resources and cooperation in oil and gas refining and petrochemistry, President Aliyev highlighted Azerbaijan`s accomplishments in this area.
The head of state expressed his confidence that the Saudi Arabian minister`s visit will give new dynamics to the development of energy cooperation between the two countries.
Expressing the Saudi people`s respect for President Aliyev and the government of Azerbaijan, Al-Falih said relations between the two countries and peoples have deep and ancient roots, pointing out centuries-long cultural cooperation.
He said this cooperation has been further expanded under the leadership of President Aliyev.
The minister said Saudi Arabia always supports Azerbaijan`s territorial integrity, adding that the two counties have built strong cooperation and have always supported each other over the past years.
The two are fairly old partners in the Middle East and bilateral relations mainly focused on political cooperation. Azerbaijan and Saudi Arabia promote comprehensive brotherhood based on the mutual respect and sincere friendship. Saudi Arabia is one of the first countries that recognized Azerbaijan's independence and provided active humanitarian assistance to refugees and IDPs.
Saudi Arabia very much appreciates Azerbaijan's contribution to the agreement to reduce oil production, which was reached in December 2016 in Vienna, said Al-Falih at a meeting with Energy Minister Natig Aliyev.
Al-Falih said that Azerbaijan is one of the countries that have fulfilled their obligations on oil output cut better than others. The minister emphasized that Azerbaijan reduced oil production to a greater extent than it undertook.
"We have common values; Azerbaijan and Saudi Arabia are very pragmatic with regard to oil production in the long term. We want stability not only for producers, but also for oil consumers," added the minister.
The participation of Azerbaijan in joint oil production cuts is defined at 35,000 barrels per day. Prior to the landmark deal, the volume of production in the country was at the level of 37.72 million tons of oil, while daily output stood at 829,100 barrels.
Saudi Arabia and a number of other Middle Eastern crude producers reached an initial agreement last week to continue output cuts beyond their June expiry, while Venezuela and Algeria backed an extension on Wednesday.
Azerbaijan also supports prolonging the supply curbs, Al-Falih said after meeting with Aliyev. "We're totally aligned. We think we need to bring global inventories to where the five-year average should be."
The Saudi minister also offered the Azerbaijani side to jointly invest in third countries, showing eagerness to expand the areas of interaction.
The offer was well perceived by Natig Aliyev, who stressed that Azerbaijan and Saudi Arabia have great potential.
Azerbaijan's state oil company SOCAR can participate in the projects in Saudi Arabia, while in its turn Saudi Arabia's Saudi ARAMCO can take part in the projects in Azerbaijan, Aliyev said.
"We will continue to discuss the possibility of cooperation between SOCAR and ARAMCO in the projects in Azerbaijan and Saudi Arabia, as well as the possibility of joint activity in Turkey," Aliyev said.
Aliyev stressed that Azerbaijan has big plans for the development of production in the petrochemical industry, in particular polypropylene. In this regard, Aliyev called Saudi Arabia for participating in the petrochemical projects.
SOCAR GPC, a gas processing and petrochemical complex of Azerbaijan's state oil company SOCAR, will be commissioned in Garadagh, 15 km south of Baku in January-March 2022. The cost of the GPC project is approximately $4 billion.
The two countries also eager to cooperate in the non-oil sector in a bid to diversify their energy dependent economies.
Al-Falih, talking to Azertac, said that Saudi Arabia seeks to exchange experience with Azerbaijan regarding the implementation of its economic diversification project designed up to 2030.
"Both countries can benefit from the exchange of experience. Saudi Arabia is ready to invest in Azerbaijan's non-oil sector. We will encourage such giant companies as "Saab" and "Maaden" to invest in Azerbaijan," he said.
The minister added that export of Azerbaijan's agricultural products to Saudi Arabia will be one of the next steps in this direction.
"We are also interested in studying Azerbaijan's experience in aluminum. For this purpose, holding of mutual visits and meetings is very important. We have many companies, individuals, funds that are looking for safe high growth economies to invest. I certainly see Azerbaijan in that category. We will encourage them to come and to be part of this industrial and economic diversification story," he concluded.
--
Follow us on Twitter @AzerNewsAz
Related News