9 September 2015 16:55 (UTC+04:00)
966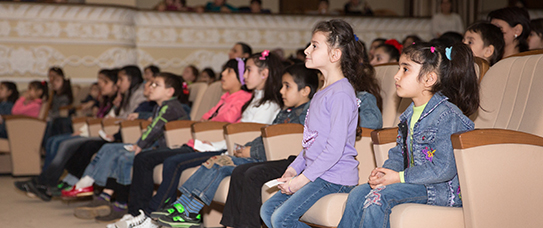 By Laman Sadigova
Baku Children's Theatre is eagerly preparing for the new theater season opening.
The head and artistic director of the theater, Intigam Soltan, said the theater will amaze its audience with interesting and vibrant performances.
The theater will open the news season on September 26 with the show program Tig-Tig Khanum, masterpiece work of Azerbaijani artist Abdulla Shaig.
Also, the theater's repertoire will be refilled with new productions in the genre of the allegorical. For the first time it is planned to put the play in the genre of shadow theater so famous all around the world.
Moreover, Baku Children's Theatre received an invitation to take part in the 34th Fajr International Theater Festival that will be held in Iran from January 21 to February 1 in 2016, and the theater is impatiently preparing for this event.
The festival annually held in Iran is one of the most important theatre events in the country. International guests join Iranian theatre groups for 17 days where the general public is given the opportunity to attend the festivities.
---
Follow Laman Sadigova on Twitter: @s_laman93
Follow us on Twitter @AzerNewsAz