20 October 2014 12:10 (UTC+04:00)
2 363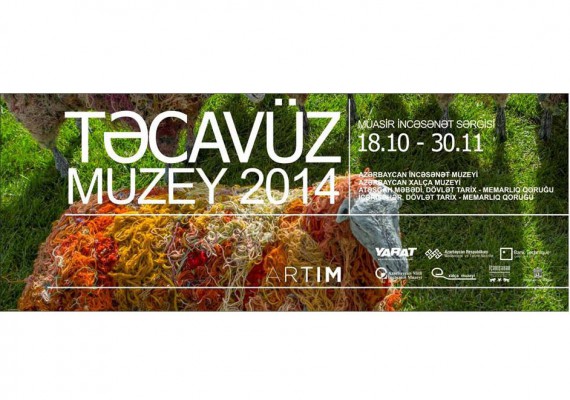 By Nigar Orujova
YARAT Contemporary Art Organization has presented its final exhibition of the project called Invasion. Museum 2014.
The exhibition runs in Baku's biggest museums the National Museum of the Arts, the State Carpet Museum, the Historical Architectural Reserve 'Icherisheher' and the Historical Architectural Reserve 'Ateshgah Temple', from October 18 to November 30.
"We plan to open YARAT Modern Art Center and organize a series of events on Azerbaijan's modern art next year," Head of the YARAT Contemporary Art Space Aida Mahmudova said at the exhibition.
"Today is a very remarkable day as the 3rd anniversary of YARAT establishment. The organization aims to develop modern art and support artists in Azerbaijan. We also want to open an exhibition of works by 31 young artists," she said.
Mahmudova went on saying, for six months, the young artists made deep research into the archives and collections of the most important museums. The result of this research was various artworks with contemporary and completely unexpected views on Azerbaijani history and art.
The project is run by YARAT within the framework of 'ARTIM', a program that supports young talent, giving opportunities to emerging artists, designers, and musicians in long term.
This year's project is directed by the distinguished Azerbaijani artist and curator Sabina Shikhlinskaya.
The subject of the project is the interpretation of the material and intangible cultural and historical heritage of Azerbaijan by contemporary artists. This project is sponsored by Bank Technique.
The list of artists includes Natavan Aliyeva, Mehriban Shamsaddinskaya, Vusala Agarzayeva, Ilaha Haligova, Aysel Nagiyeva, Rufat Aliyev, Veronika Isayeva, Orhan Garayev, Nadir Babayev, Ayna Musayeva, Zokhrab Salamzadeh, Farhad Hagverdi, Nigar Alisheva, Chinara Mejidova, Fatima Hajiyeva, Rahim Chopurov, Nazrin Musayeva, Nigar Mammadli, Habib Saher, Ayten Abdullayeva, Arif Amirov, Sabina Abbasova, Elvin Adigezal, Nadir Eminov, Elvin Nabizade, Ayhan Halilov, Ruhullah Hasanzadeh, Parvana Persiani, Huseyn Hasanov, Nariman Israfilova and Fidan Hajiyeva.
For six months, the project's participants got familiarized with the archives and collections of the most important museums of Baku, Absheron, Sheki, Ganja, Lahij and Basgal.
The archives and collections covered different genres and trends including painting, sculpture, installation, video art and performance.
Based in Baku, YARAT (CREATE) realizes its mission through an ongoing program of holding exhibitions, education events, and festivals. YARAT facilitates dialogue and exchange of ideas between local and international artistic networks, including foundations, galleries and museums. A series of residencies further fosters opportunities for global cultural dialogue and partnerships.
YARAT's educational initiatives include organizing lectures, seminars, master classes, and implementing the Young Artist Project ARTIM. The project aims to encourage the next generation of Azerbaijani creative talent to seek a career in the arts and give young practitioners the opportunity to exhibit their works in a professional environment.
Related News