Azerbaijani singer thrills up Turkvision's presentation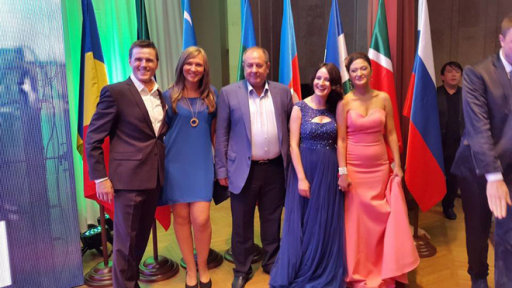 By Nigar Orujova
Young singer of Azerbaijan Ulker Aliyeva has sung at a gala dinner during the presentation of the II International TV Song Contest of Turkic performers "Turkvision".
The presentation was held at the National Cultural Center "Kazan" in the capital of Tatarstan. The second Turkvision song contest will be held this year in Kazan gathering 24 mostly Turkish speaking and Turkic ethnicity countries and regions on November 19-21.
The event was attended by Culture Minister of Tatarstan Ayrat Sibagatullin, prominent public figures, representatives of culture and art, delegations from Azerbaijan, Kyrgyzstan, Bashkortostan, Iraq, Kazakhstan, Cyprus, Crimea, Moldova, Turkey, Khakassia, Karachay-Cherkessia, and Russia.
Addressing the event Sibagatullin said: "The fact that Kazan is entitled the cultural capital of the Turkic world this year is very important for Tatarstan, because 2014 is also the Year of Culture in Russia."
Deputy of the State Council of Tatarstan and national poet Razil Valeev welcomed the guests from different regions of Russia and other countries.
He stressed how enthusiastically the council's committee on culture, science, education and national issues embraced the idea to hold the festival in Kazan.
Deputy Director of the Republican Agency for Print and Mass Media Nuria Belomoina said: "The competition is not just a festival of art. By sharing information, we firstly develop international links and promote art and culture of each nation. The most important point is that we unite different peoples from different nationalities."
During the presentation, some agreements were signed between TMB TV channel, the main organizer of the festival, and national and regional channels that will in future carry out the qualifying rounds and broadcast the show live.
Ulker Aliyeva, with a small concert, performed works of Azerbaijani composers, Russian romances and world-known hits at the event.
In June, Aliyeva, a graduate of Baku Music Academy, was among the best performers at the 17th international festival and competition of musical creativity of Turkic Youth "Ural mono 2014" in Ufa, Bashkortostan, winning the third place.
The contest with about 300 million viewing audience will consist of the one semifinal and the final.
Last year, Azerbaijani singer Farid Hasanov won the first contest of the Turkic states that was inspired by the Eurovision Song Contest.
Holding the song contest provides an opportunity to identify young talents in Turkic world. Moreover, the contest is of particular importance in terms of its moral influence on the young generation, providing them an opportunity to be acquainted with the culture of the Turkic world.