Ayyub Guliyev appointed conductor of Russian philharmonic hall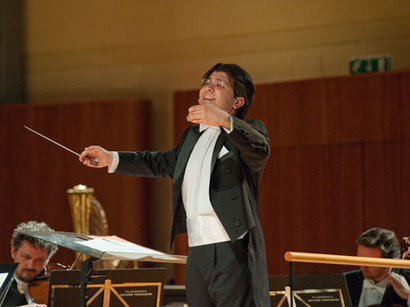 By Nigar Orujova
The winner of international competitions and conductor of the Azerbaijan State Academic Opera and Ballet Theater Ayyub Guliyev has been appointed principal guest conductor of Russia's State Academic Philharmonic Hall named after Vasiliy Safonov.
Safonov Orchestra, a powerful cultural and educational institution in Russia, is one of the oldest musical collectives of the country, which was established on the initiative of great musician and educator Vasiliy Safonov in 1895.
The agreement with the Philharmonic Hall and the Orchestra was signed in June this year.
"We had been discussing the invitation from the Orchestra for a long time," Guliyev said. "Finally, the agreement was signed in June. I was appointed the chief conductor by a joint decision of the Philharmonic Hall and the Orchestra. It makes me happy, because this orchestra is very old and prestigious. It was founded in 1895 and performs in Italy, Spain, France. In the past, this orchestra was conducted by great musicians and I am very glad that an Azerbaijani conductor was chosen this time. This is a great honor."
According to the terms of the agreement, the orchestra will give concerts for two years.
"A special night will also be organized for Azerbaijani music. Uzeyir Hajibeyov, Gara Garayev and Haji Khanmammadov's works will be performed on that night. We will perform at the music festival dedicated to the 200th jubilee of Giuseppe Verdi. The agreement has been initially signed for two years. [But] I think we will achieve extending the term of the agreement," Guliyev said.
Guliyev has cooperated with the collective since 2008, prepared about 30 concerts and performed with renowned musicians. This year, Guliyev will be opening the 18th International Music Festival named after Safonov.
The 2013-14 concert season is scheduled to include concerts featuring the orchestra and choir of the Philharmonic Hall, a new production of the premiere of Giuseppe Verdi's opera "La Traviata", a night of Azerbaijani classical music and a series of symphonies by Brahms and Dvorak.
29-year old Guliyev graduated from the Baku Music Academy in 2005. In 2005-2008, he studied at the Saint Petersburg State Conservatoire and the University of Music and Performing Arts in Vienna. Guliyev is the son of People's Artist, tar (stringed musical instrument) player Ramiz Guliyev.
Ayyub Guliyev was the only Azerbaijani performing at the international music festival dedicated to the 140th anniversary of Sergei Rachmaninoff in Russia.
Guliyev is the winner of several competitions, including the International Conducting Competition after B. Lyutoslavckiy in Belostok in 2006 and the International Conducting Competition after D. Mitropoulos in Athens in 2008. In 2010, Guliyev won the top award, the Giuseppe Sinopoli prize, at the International Conducting Competition named after Arturo Toscanini in Parma.