TURKSOY artists convene in Kazakhstan [PHOTO]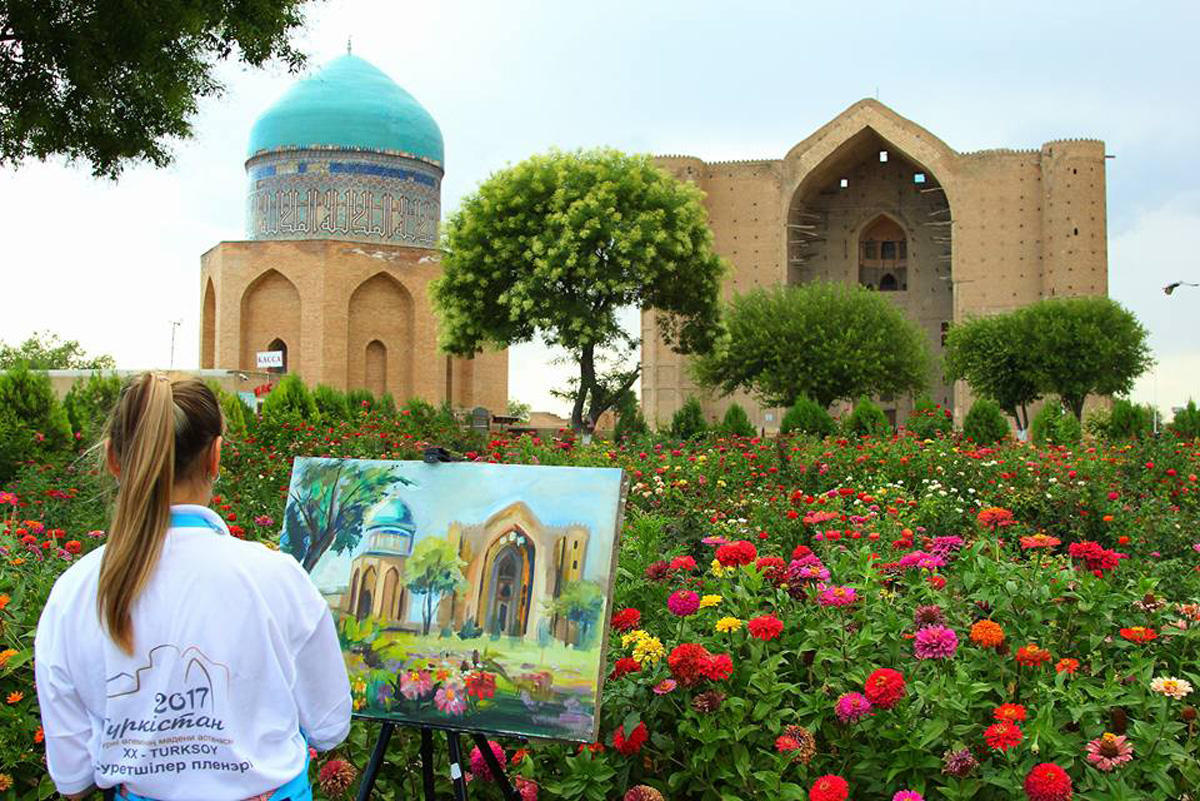 By Laman Ismayilova
The 20th Painters' Gathering of TURKSOY, which is one of the important activities carried out by TURKSOY every year, in underway in Kazakhstan.
The gathering which takes place in the hometown of the great philosopher of the Turkic World, Khoja Akhmet Yassawi is held with the contribution of 25 painters from 15 countries, including 11 painters from Kazakhstan, TURKSOY reported.
Painters from Azerbaijan, Kyrgyzstan, Kazakhstan, Uzbekistan, Turkey, Autonomous Republics of the Russian Federation Khakassia, Yakutia, Chuvashia, Gagauzia (Moldova), the TRNC, Ukraine, Bosnia Herzegovina and Bulgaria are attending the event, which will last until August 22, 2017.
Director of Cultural Affairs of the Governorate of the Province of Southern Kazakhstan Nurbolat Kadyruli, addressing the press conference, stressed the gathering will be an opportunity for painters of the Turkic World to depict the beautiful province of Southern Kazakhstan .
"The main aim of this Painters' Gathering of TURKSOY is to introduce the traditions and customs of the independent Kazak people as well as the beautiful landscapes, sacred monuments, history and art of Kazakhstan to the world," he said.
Within the framework of the 20th Painters' Gathering of TURKSOY, painters of the Turkic World attended various events which allowed them to depict the historical monuments and natural landscapes of Turkistan, the Cultural Capital of the Turkic World as well as of various regions of Kazakhstan.
The gathering will end with an exhibition featuring paintings resulting from the gathering on August 22, 2017 .
Shortly after its establishment, the International Organization of Turkic Culture, TURKSOY, started carrying out activities to promote works by artists of the Turkic World and foster mutual exchanges of experience among them.
Accordingly, TURKSOY launched its Painters' Gathering as a workshop giving artists of the Turkic World the opportunity to further contribute to the preservation of our rich cultural heritage through their colourful paintings.
Painters' Gatherings of TURKSOY which have been held every year since 1997 have brought together nearly three hundred talented painters and resulted in approximately 1500 paintings. Nearly all of these paintings are currently part of TURKSOY's collection.
These paintings have been displayed in nearly hundred mixed and individual exhibitions held in prestigious cultural venues around the world, thus, contributing to the worldwide promotion of talented artists of the Turkic World and introducing our rich cultural heritage to the world.
TURKSOY, also known as the UNESCO of the Turkic World was established in 1993 with the participation of Azerbaijan, Kazakhstan, Kyrgyzstan, Uzbekistan, Turkmenistan and Turkey's Culture Ministers.
Later on, the Turkish Republic of Northern Cyprus, Tatarstan, Bashkortostan, Altai, Sakha Yakutia, Tyva and Khakassia also joined the organization along with Gagauzia (Moldova) as member states with an observer status.
---
Laman Ismayilova is AzerNews' staff journalist, follow her on Twitter: @Lam_Ismayilova
Follow us on Twitter @AzerNewsAz