Azerbaijan develops concept for industrial sturgeon breeding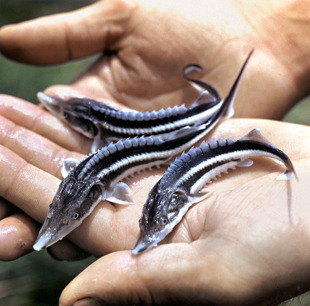 By Nigar Orujova
The Zoology Institute of the Azerbaijan National Academy of Sciences jointly with the Scientific Research Institute of Fisheries of the Ecology and Natural Resources Ministry developed a concept for industrial breeding of sturgeon by innovative method.
The first concept of this kind in Azerbaijan was developed based on the research conducted in 2013-2014, said Ilham Alekperov, Head of the Zoology Institute.
He added that in recent years the population of sturgeon in the Caspian Sea is rapidly shrinking, which will lead to an increase in the market value of this fish.
The cost of one kilogram of sturgeon in Europe and the U.S. ranges from $18-22, and the cost of black caviar is ranging from $4,000 to $9,000, Alekperov said.
Currently, fishing meets only 25-30 percent of the market demand for the sturgeon, the scientist said.
He noted that there are good opportunities in Azerbaijan for creation of a network of farms for industrial sturgeon breeding.
The creation of such facilities in the next five years will decrease the market value of sturgeon, which will lead to the disappearance of poaching, Alekperov stressed.
The main producers of black caviar are Iran, Russia, Kazakhstan and Azerbaijan, he noted. Unlike Azerbaijan, these countries have already a farm for breeding sturgeon.
The head of Zoology Institute said Azerbaijan lags behind other countries in this issue.
"To solve this problem, creation of farm with the production capacity of 45 tons of sturgeon per year is suggested as the first pilot project in the prepared concept," he said.
The Caspian Sea, a home to 80-85 percent of the world sturgeon, is witnessing a sharp decrease of these fish species.
Some 90 percent of the popular black and red caviar sold all over the world comes from this region. The Caspian states banned any industrial or commercial sturgeon fishing in the sea in 2014.
Moreover, the Caspian Sea with its rich natural resources is also a home to about 141 other fish species. However, this natural wonder is struggling with different problems including pollution.
There has been a tenfold decrease in the number of sprats and sturgeons in the Caspian Sea over the past years.
Five coastal states, Azerbaijan, Kazakhstan, Russia, Turkmenistan and Iran, signed a framework convention on the protection of the marine environment of the Caspian Sea in November 2003.