Azerbaijan, Saudi Arabia ink cooperation protocol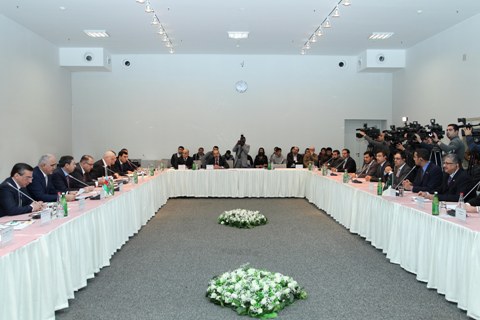 By Sara Rajabova
Azerbaijan and Saudi Arabia signed a protocol on cooperation in various fields in Baku on December 11.
The protocol was inked following the third meeting of the intergovernmental commission, and included numerous fields such as economy, trade, investment, technology, sports and youth, and culture.
Azerbaijani Minister of Economy and Industry Shahin Mustafayev and head of Saudi Arabian General Investment Authority Abdullatif Al Othman signed the protocol.
During the meeting, Mustafayev said commercial and economic relations between two the countries are actively developing.
"Currently six Saudi Arabian companies operate in Azerbaijan," he said, adding that the firms have invested $368 million in the country's economy.
Mustafayev also said the work actively continues in the sphere of attracting loans.
He informed that the two countries are going to sign a loan agreement worth $35 million in near future to improve water supply in Khirdalan city.
Musatafayev said Azerbaijan is currently implementing a number of global and regional energy projects, including the Trans-Adriatic and Trans-Anatolian pipeline, which will ensure the supply of Azerbaijani gas to Europe.
He also said that the country is turning into a major transport hub, thanks to its participation in the development of TRACECA and North-South corridors, as well as projects such as Baku-Tbilisi-Kars railway, a new shipbuilder plant, and Baku International Trade Port.
Mustafayev expressed his appreciation to Saudi Arabia for its support on the Nagorno-Karabakh conflict and said Armenia is left out of major regional projects due to its aggressive policies.
Armenia occupied over 20 percent of Azerbaijan's internationally recognized territory, including Nagorno-Karabakh and seven adjacent regions, after laying territorial claims against its South Caucasus neighbor that had caused a lengthy war in the early 1990s.
Mustafayev said Armenia's participation in these projects will be possible only after the withdrawal of Armenian armed forces from the occupied regions.
Al-Othman, for his part, said Saudi Arabia pays significant attention to the development of relations with Azerbaijan and there are opportunities in this regard.
The joint business forum held on December 10 was reportedly fruitful. The possibilities of exporting Azerbaijani agricultural products to Saudi Arabia, as well as importing agricultural machinery to Azerbaijan were discussed in the meeting.
Some other issues such as participation of Saudi companies in Sumgayit Chemical Industrial Park, as well as establishing similar production of brick and ceramic coating in Azerbaijan were also discussed in the meeting.
Mustafayev also held a meeting with Saudi Arabian delegation led by Governor of the General Investment Authority (SAGIA) Abdullatif bin Ahmed Al-Othman, and SAGIA`s deputy director, Prince Saud Bin Khalid Al-Faisal on December 10.
The discussions focused on economic cooperation between Azerbaijan and Saudi Arabia.
Mustafayev said the relations between the two countries were established by Azerbaijan's national leader Heydar Aliyev and Saudi Arabia's Custodian of the two Holy Mosques King Fahd bin Abdulaziz Al Saud.
He said the documents signed as part of Azerbaijani President Ilham Aliyev`s visit to Saudi Arabia in 2005 constitute a legal basis for cooperation between the two countries.
The minister also hailed the role of the inter-parliamentary working group in expansion of bilateral ties.
He added that some projects related to Azerbaijan`s water supply and reconstruction of the country`s sewerage system will be carried out by Saudi Fund for Development.
Mustafayev also underlined the role of the Joint Commission on economy, trade, investment, techniques, culture and sports in expansion of cooperation between Azerbaijan and Saudi Arabia.