1 May 2017 15:37 (UTC+04:00)
2 205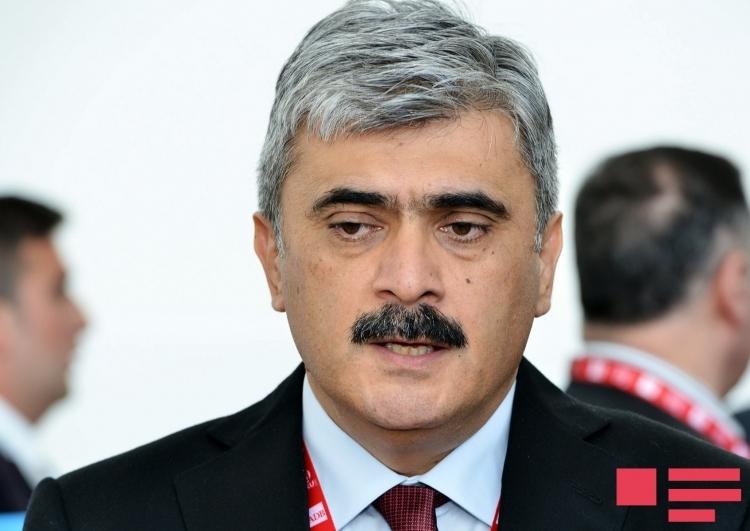 By Sara Israfilbayova
Finance Minister Samir Sharifov revealed that the fixed-capital investments made in the development of Azerbaijan's economy totaled 184 billion manats in 1993-2015.
Sharifov, in his article published in "Azerbaijan" newspaper, said that if in 1993, the annual volume of investments in Azerbaijan was only 6.3 million manats, this figure reached 20 billion manats in 2015.
These investments made it possible to build or reconstruct 2,124 schools, 351 kindergartens, 300 medical institutions, 144 tourist and cultural facilities, 82 sports and Olympic complexes in Azerbaijan in 2004-2015.
The minister mentioned that 1.48 million new jobs were created in Azerbaijan in 2004-2015, and 1.1 million of them were permanent. Roughly 66.4 percent of the created new jobs accounted for Azerbaijani districts.
"In 1995, Azerbaijan's strategic currency reserves amounted to $250 million, but by the end of 2016, the country's currency reserves reached $37 billion," the minister said.
Over the past 10 years, Azerbaijan's economy has grown by 300 percent. Indeed, the World Economic Forum has again ranked Azerbaijan at 40th in the world for competitiveness, and first in the CIS (Commonwealth of Independent States) region.
Speaking about the large-scale projects initiated and realized Azerbaijan, the inister pointed to the Southern Gas Corridor project, which will provide transportation of natural gas produced within the Shah Deniz-2 project to Turkey and South Europe through the South Caucasus Pipeline (SCP), as well as the Trans Adriatic Pipeline (TAP) and the Trans-Anatolian Natural Gas Pipeline (TANAP).
The project is supported not only by the participating countries, but also by the Asian Development Bank, the World Bank, the Asian Infrastructure Investment Bank and other international financial organizations.
"This shows the confidence at the world level in the "Southern Gas Corridor" project, implemented under the initiative and leadership of Azerbaijan. President Ilham Aliyev noted that this project is important not only for our country, but also for the energy security of the region and whole Europe, stressing that Azerbaijan is the leading force in implementing the project," the minister concluded.
The "Southern Gas Corridor" is one of the priority projects for the EU and envisages the transportation of 10 billion cubic meters of Azerbaijani gas from the Caspian region through Georgia and Turkey to Europe.
At the initial stage, the gas, which will be extracted within the second phase of development of the Azerbaijani Shah Deniz gas and condensate field, is considered as the main source for the projects of the Southern Gas Corridor. At a later stage, other sources may be connected to the project.
---
Follow us on Twitter @AzerNewsAz
Related News