27 April 2017 10:00 (UTC+04:00)
1 803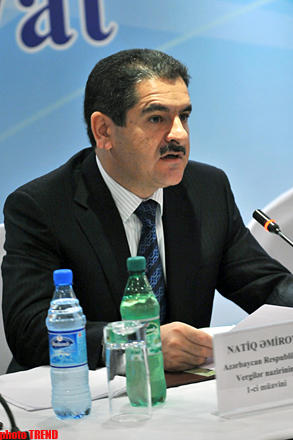 By Sara Israfilbayova
Big efforts have been made over the past two decades to achieve a sustainable economic development in Azerbaijan. The achievements of the national economy over the past years are impressive, as today the country continues to implement large-scale economic projects and even expands a range of social programmes despite the global crisis.
The rich oil and gas reserves of Azerbaijan and purposeful policy have created opportunities for doing huge amount of works in the economy.
Azerbaijani Presidential Aide on Economic Reforms Natig Amirov, in his article published on the 'Azerbaijan' newspaper, said that looking at socio-economic indicators for 1995-2003 one can see the positive results of the economic reforms.
"In 1995-2003, country's GDP increased by 90.1 percent, state budget revenues -3.9 times, the currency reserves - 85 times, industrial production - 22.4 percent, agricultural production - 52.8 percent, trade turnover - 4 times, the average monthly wages of those involved in economy increased 6.2 times, inflation was reduced to 2-3 percent. During this period, about $20 billion were invested in the national economy," he clarified.
These achievements reached thanks to management skills, wise policy and hard work of national leader Heydar Aliyev created a solid foundation for sustainable and dynamic development in subsequent years, according to him.
He noted that under the leadership of Heydar Aliyev's worthy successor, President Ilham Aliyev successes of the economic policy further strengthened, the country successfully completed a period of economic transition and ensured the transition to a liberal market economy.
"The economic reforms have been continued under the leadership of President Ilham Aliyev in 2003-2014, Azerbaijan's economy has become one of the most rapidly growing economies in the world. In a short period of time, Azerbaijan turned into a country with an upper-middle income, the socio-economic infrastructure was completely renewed and the county was placed the 37th place in the world in terms of global competitiveness," he said.
Amirov mentioned that over these years, the country's economy grew by 6 times, while per capita income increased more than 5 times.
He went on to say that in 2004-2013, Azerbaijan carried out two five-year state programs dedicated to economic diversification, development of non-oil sector and regions of the country, improvement of social services and infrastructure.
During the 10 years since the implementation of the programs, GDP increased by 3.2 times, non-oil sector - 2.6 times, industry - 2.7 times, agriculture - 1.5 times, investments - 6.5 times , incomes of the population - in 6,5 times, average monthly wages - in 5,5 times.
As a result of the taken measures, more than 1.2 million jobs were created in the country, 900,000 of which were permanent, 55,600 enterprises were established. The unemployment rate fell to 5 percent, while the poverty level dropped to 5.3 percent, he said.
More than $130 billion were invested in the economy of Azerbaijan and the foreign trade turnover grew 6.4 times, while non-oil exports increased by 4.5 times.
During this period, 19,400 entrepreneurs received preferential loans worth more than 1.2 billion manats. These loans helped to create 113,000 new jobs, he said, further elaborating that the state continues to support entrepreneurs and creates necessary conditions for the development of a healthy business climate in the country.
He mentioned that in this regard, it is planned to create the Agency of Small and Medium Enterprises and the Guarantee Credit Fund in 2017-2018. Similar agencies already operate in Europe, the UK, the USA, China, Singapore and other countries, stimulating the development of small and medium-sized businesses, according to him.
Over the past 10 years, Azerbaijan's economy has grown by 300 percent. Poverty and unemployment have been sharply diminished, with measures of both now standing at 5 percent
Indeed, the World Economic Forum has again ranked Azerbaijan at 40th in the world for competitiveness, and first in the CIS (Commonwealth of Independent States) region.
---
Follow us on Twitter @AzerNewsAz
Related News