Azerbaijani cyclist-traveler reaches Italy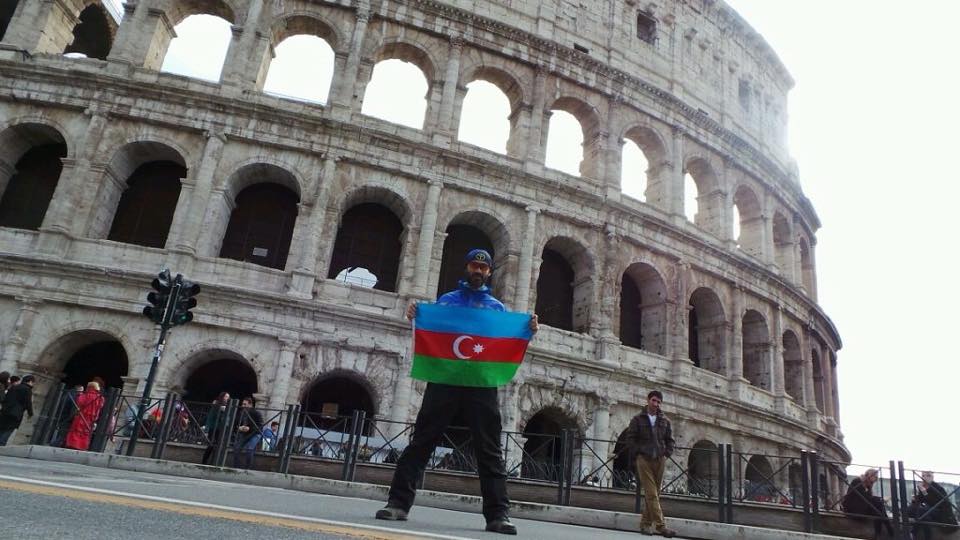 By Nigar Orujova
After a year of cycling, the courageous Azerbaijani cyclist, Ramil Ziyadov, has reached Rome, Italy.
Cyclist-traveler Ramil set off a two-year journey in the name of Azerbaijan last January, hoping to pedal 45,000 kilometers across Eurasia and Africa.
He has already left behind Russia's far north and the polar circle, Ukraine, Belorussia, Moldova, Romania, Georgia, Turkey, Greece and reached Italy.
In a year, Ramil covered 17,000 km, and topped 2,000 meters over the sea level, withstanding snow and rain, wind and other hard conditions on his way.
Copping with risks with only some cold-weather clothing, a sleeping bag and a tent, Ramil wants to show the world the strength of Azerbaijanis.
During his trip, Ramil also informs people around the world about Azerbaijan, its achievements and developments, and its acute problem: the Nagorno-Karabakh conflict emerged after Armenia's territorial claims against Azerbaijan
Ziyadov said he seeks to continue his trip to reach Africa. He will cycle to try himself in Cameroon, Senegal, Morocco, later turning destination to Egypt, Turkey and Iran will return to the homeland.
This is the third such a tour of the cyclist, who has already covered over 15,000 kilometers in six months, cycling from Russia to China. He had also a 300-kilometers tour in Azerbaijani regions.
--
Nigar Orujova is AzerNews's staff journalist, follow her on Twitter: @o_nigar
Follow us on Twitter @AzerNewsAz