Italian Santini designs new jerseys for Tour d'Azerbaidjan 2015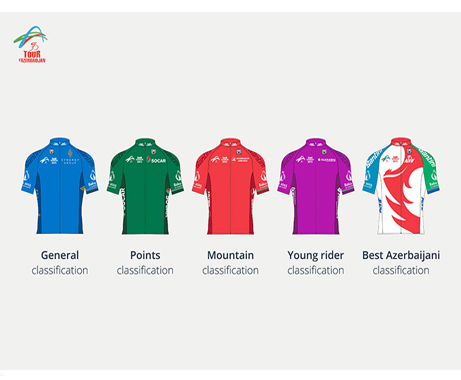 By Amina Nazarli
Santini SMS, the famous Italian cycling clothing handmade has designed and produced new jerseys for the leaders of the special rankings at the Tour d'Azerbaidjan 2015.

The jerseys have been designed in five colors. The blue jersey has been produced for "Synergy" leader's jersey, the red "AZAL" jersey for the best climber, the green "SOCAR" jersey for the top sprinter, the magenta "Ata" jersey for the best young rider, and the dramatic flame-design "AzVIF" jersey for the best Azerbaijani rider.

The jerseys all feature the logo of the Baku 2015 European Games on the sleeves.
Farhad Aliyev, General Secretary of the Azerbaijan Cycling Federation thanked the designers. "We are very pleased with the new designs for these jerseys, and thank Santini SMS for providing us with such high-quality products."
Santini SMS has been making sports clothing since 1965, and is the official clothes sponsor of the UCI and the World Championships. It also provides jerseys and race clothing to a number of teams, including the Synergy Baku Cycling Project, as well as the special jerseys for other races, including the Giro d'Italia.

"We are proud of manufacturing the leader jerseys for the Tour d'Azerbaidjan, an international cycling event with a growing popularity that has already conquered the heart of thousands of fans worldwide, and that this year will feature many teams from all over the world," commented Monica Santini, CEO of Santini SMS. "Not only is our collaboration with this well-known cycling race a source of pride, it is also an opportunity for us to enhance our visibility in the growing Azerbaijani market."
The international stage race Tour d'Azerbaidjan will be held on May 6-10, 2015. At least 24 teams from around the world will tackle the competition, facing a five stage race covering various parts of Azerbaijan. The line-up so far features four Professional Continental teams, 16 Continental teams, and four national teams.
The last and fifth stage will be held in the Mountain Bike park designed for the 1st European Games cycling competition to be held in Baku in between June 12-28 and to bring more than 6,000 athletes in some 20 sport disciplines.
--
Amina Nazarli is AzerNews' staff journalist, follow her on Twitter: @amina_nazarli

Follow us on Twitter @AzerNewsAz