First unit of Rogun HPP to be commissioned on time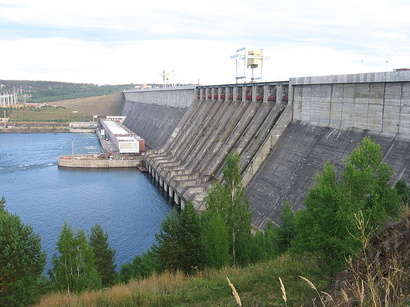 By Kamila Aliyeva
The works on the Rogun hydro power plant (HPP) construction project are being carried out, and the first unit of the HPP is planned to be commissioned this year.
This was stated by Tajik Minister of Energy and Water Resources Usmonali Usmonzoda.
All contractors have pledged to launch the first unit of the hydro power station on schedule, that is, this year, according to the official.
"There are some problems, but we are sure that the instruction of the country's leadership regarding the timely implementation of the project will be fulfilled," he stressed.
At the same time, Usmonzoda did not specify which problems exist in the implementation of this large-scale project.
The government of Tajikistan, which has suffered from electricity shortages for years, makes all possible efforts to complete the construction of dam that will solve the country's energy problem.

By implementing the project, Tajikistan will be able to generate about 13 billion kilowatt-hours of electricity annually. This will not only help the country to meet its domestic needs but also turn Tajikistan into a major exporter of electricity.
According to the project, six units are planned to be installed at the station, each with a capacity of 600 MW.
The station will become the highest rock-earth dam in the world. This HPP will generate 17 billion kWh of electricity annually.

Approximately $4 billion is needed to complete the major energy project. About 2 billion somoni ($227,2 million) have been allocated from the state budget for the completion of the hydroelectric power station this year.
Therefore, the Tajik authorities decided to issue securities worth $1 billion for the completion of the Rogun HPP in 2017. At the first stage, bonds worth $500 million were put up for sale on the world markets.
In late September 2017, the National Bank of Tajikistan reported that Tajik bonds were sold to investors from the United States, Great Britain and the countries of the European Union and Asia.
The dam should form a large Rogun reservoir with a total volume of 13.3 cubic meters. The project is criticized because of the location in the zone of high seismicity, landslide and mudflow processes, and the presence of a tectonic fault filled with rock salt under the base of the dam.
The Rogun HPP will dam the Vakhsh river, which is a major tributary to the Amu Darya river, one of the region's two major water courses. The neighboring countries cautioned water could be diverted from their cotton and wheat fields. Uzbekistan claimed that water flows would be seriously decreased in case the dam is built. However, the World Bank assessment gave the go-ahead to the major project.
The Italian company Salini Impregilo is engaged in the construction of the Rogun power plant. Last October, Tajikistan launched work on the construction of a rock embankment dam, 335 meters high and $1.95 billion worth. The cost of the entire hydro power station is $3.9 billion.
---
Kamila Aliyeva is AzerNews' staff journalist, follow her on Twitter: @Kami_Aliyeva
Follow us on Twitter @AzerNewsAz