S&P revises outlook on Kazakhtelecom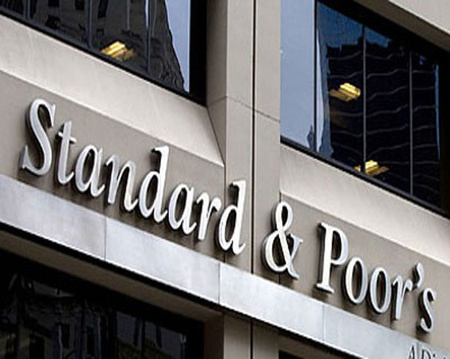 By Trend
The International Rating Agency S&P Global Ratings revised its outlook on Kazakhstan-based telecommunications operator Kazakhtelecom to positive from stable, the rating agency reported.
At the same time, S&P affirmed its 'BB' long-term foreign and local currency corporate credit ratings and the 'kzA+' Kazakhstan national scale rating. The agency has also affirmed its 'BB' and 'kzA+' issue ratings on the group's Kazakhstani tenge 45.5 billion senior unsecured bond.
"The outlook revision reflects Kazakhtelecom's strengthening credit metrics, particularly our expectation that S&P Global Ratings-adjusted debt to EBITDA will decline below 1.0x in 2016-2018," S&P said.
S&P also takes into account Kazakhtelecom's solid balance sheet, with a large balance of cash and deposits at around 53 billion tenges at end-June 2016, and its expectation that it will increase, supported by strongly positive free operating cash flow (FOCF). Although S&P is mindful of the general weakness of the Kazakh banking system and considers that the structure of cash and deposits is well-diversified and that Kazakhtelecom has a track record of easily accessing cash in previous years. Importantly, a significant part of Kazakhtelecom's cash and deposit is held in foreign currency (U.S. dollars), which mitigates the currency risk related to the group's notes that are linked to the dollar, the rating agency said.
In the analysis, S&P factors in that in 2019 Kazakhtelecom will face a put option on its 49 percent stake in the mobile joint venture, which the agency currently values at the amount of the shareholder loans contributed by Tele2. S&P expects that the group's adjusted leverage (debt to EBITDA) could increase in 2019 but still remain at or below 1.5x.
The assessment of Kazakhtelecom's business risk profile remains constrained by the group's exposure to country risk in Kazakhstan. All group assets are located there, and S&P assesses the country risk as high. The rating agency also factors in its exposure to fixed-line voice business, which is declining due to fixed-to-mobile substitution, and pressure on Kazakhtelecom's public policy role, requiring it at times to invest in projects with low profitability or long payback periods. The agency also considers that Kazakhtelecom no longer directly owns any mobile assets following the creation of the joint venture with Tele2.
These weaknesses are partly offset by the group's dominant incumbent position in the fixed-line telephony market in Kazakhstan. In many areas of the country, it is the sole provider of fixed-line telecom services.
S&P anticipates that Kazakhtelecom will face continued margin pressure in 2016-2017, partly because of the impact of the weaker tenge. The rating agency expects an adjusted margin of about 33 percent in 2016-2017, as compared with around 38 percent in 2015. That said, S&P expects that Kazakhtelecom will generate approximately 5 percent organic revenue growth (excluding the mobile segment) in 2016, primarily on interconnect services, line rentals, data transfer, and pay-TV services. That said, the agency expects that fixed-line services which account for about 20 percent of total revenues, will gradually decrease as a result of fixed-to-mobile substitution. S&P expects that in 2017, Kazakhtelecom's revenues will increase only marginally, with declining fixed-line revenues offset by other segments.
The positive outlook reflects the possibility that S&P could raise its rating on Kazakhtelecom in the next 12 months, if adjusted debt to EBITDA remains consistently below 1.5x while the joint venture's operating performance gradually improves.
An upgrade would rely on adjusted debt to EBITDA below 1.5x, even factoring in the exercise of the option on the Tele2 stake in the joint venture in 2019. Achieving this ratio will depend on both Kazakhtelecom's and the joint venture's operating performance.
S&P could revise the outlook to stable if Kazakhtelecom's leverage were to increase above 1.5x, as a result of a negative impact from the joint venture or high dividend distribution.
---
Follow us on Twitter @AzerNewsAz