23 September 2014 13:37 (UTC+04:00)
1 472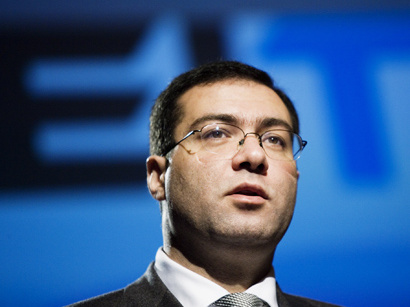 By Aynur Jafarova
Azerbaijan's state oil fund SOFAZ, an entity that accumulates and manages the country's oil and gas revenues, is expected to gain $200 billion in the coming years.
The news was announced by Executive Director of SOFAZ Shahmar Movsumov on September 20.
He told the journalists that currently, SOFAZ continues financing the projects on the construction of the Baku-Tbilisi-Kars railway, rehabilitation of the Samur-Absheron irrigation system, as well as the state program on education of Azerbaijani students abroad.
Touching on the financing the Southern Gas Corridor project, Movsumov said the fund will directly participate in this process, which will be carried out both by the partial providing of the share of state in the project, as well as by increasing the authorized capital of Azerbaijan's energy giant SOCAR.
He also expressed confidence that SOFAZ return funds used for this purpose thanks to the successful implementation of the Southern Gas Corridor project.
SOFAZ was established in 1999 with assets worth $271 million.
The main aims of the fund include, accumulation of revenues, investment of assets abroad to minimize negative impacts on economy, preventing the 'Dutch disease', ensuring savings for future generations, and maintaining the current social and economic standards in the country.
The assets of SOFAZ increased by 4.86 percent as of July 1, 2014 compared to early 2014 reaching to over $37.622 billion. Since the first quarter of 2012, the fund started purchasing gold, and the amount of the purchased gold reached to 30 tons 175 kg (970,146 ounces) as of April 1.
SOFAZ has invested $2.164 billion in Southern Gas Corridor Closed Joint Stock Company in the long term by purchasing the bonds of the company, which issued bonds worth $917,320,800 and $1,246,355,000 within two emissions.
On February 25, Azerbaijan's President Ilham Aliyev signed a decree on establishing a CJSC for effective management of energy projects. The decree involved projects connected with the second stage development of the giant Shah Deniz field and the expansion of the South Caucasus Pipeline, Trans-Anatolian (TANAP) Pipeline, and the Trans-Adriatic (TAP) pipeline.
SOFAZ has been assigned to provide an equity financing for the CJSC. The funds that will be provided for the CJSC will provide a long-term investment on return conditions.
Related News