24 April 2013 13:22 (UTC+04:00)
1 274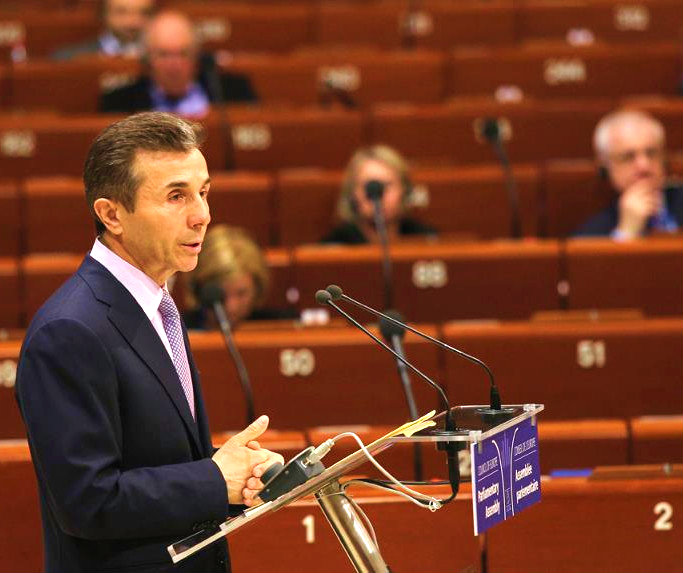 By Sabina Idayatova
Georgia will make every effort to increase its transit role in supplying Caspian and Asian energy resources to Europe, Georgian Prime Minister Bidzina Ivanishvili said during his speech at PACE on Apr. 23.

Ivanishvili noted that Georgia intends to develop bilateral relations with neighboring countries, which are Georgia's long-standing partners in supplying oil and gas to Europe.
"Energy security is a very important area for any country and these projects will enable us to ensure this security. We intend to intensify our cooperation in the field of developing energy transit," Ivanishvili said.
Economic projects implemented between Georgia, Azerbaijan and Turkey bring these countries together and strengthen their cooperation. These three countries are connected by several important regional projects, including the Baku-Supsa, Baku-Tbilisi-Ceyhan oil pipelines, Baku-Tbilisi-Erzurum gas line and Trans-Anatolian gas pipeline (TANAP).
The Baku-Supsa Pipeline also known as the Western Route Export is an 833-kilometre long oil pipeline, which runs from the Sangachal Terminal near Baku to the Supsa terminal in Georgia. The inauguration ceremony of the Supsa Oil Terminal took place on Apr.17, 1999. It transports oil from the Azeri-Chirag-Guneshli field. The pipeline is operated by BP. The total costs of the construction of the pipeline and terminal were US$556 million.
The length of the Baku-Tbilisi-Erzurum Gas Pipeline exceeds 700 kilometers. It transports the gas produced in the Shah Deniz gas condensate field located in the Azerbaijani sector of the Caspian Sea and supply to Georgia and Turkey. Azerbaijan appears as a buyer of gas as well. In 2012, daily output capacity of the pipeline reached 11.1 million cubic meters of gas or 68,000 barrels in oil equivalent and expected to increase the gas transit 16 billion cubic meters through the expansion of this pipeline.
The Baku-Тbilisi-Сeyhan`s total length is 1,768 kilometers including a 443-kilometre section running via Azerbaijan, a 249-kilometre section traversing Georgia and a 1,076-kilometre section passing through Turkey. The pipeline's construction began in April 2003. First oil was marketed on May 18, 2005.
TANAP project envisages construction of the pipeline from the eastern border of Turkey to the country's western border to supply gas from Azerbaijani Shah Deniz gas field via Georgia to Turkey and on to Europe. The initial capacity of the pipeline is expected to reach 16 billion cubic meters a year. About six billion cubic meters will be delivered to Turkey, and the rest - to Europe.

Turkey and Armenia have no diplomatic relations and the border between them has been closed since 1993. This was caused by Armenian claims for international recognition of the alleged World War I-era "genocide" in the Ottoman Empire and occupation of Azerbaijani territories. Furthermore, Armenia remains beyond such large-scale projects due to its invasion policy toward Azerbaijan continued more than 20 years.
Related News