Gazprom starts gas deliveries to Azerbaijan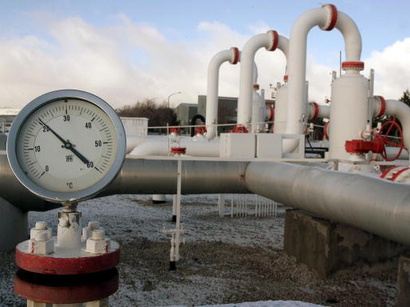 By Trend
Russia's Gazprom started delivering natural gas to Azerbaijan on Nov. 22 evening, a source in Azerbaijan's state oil company SOCAR told Trend on November 23.
"This gas will be pumped into underground gas storage facilities with a view to its further use in processing, or for domestic needs. If there is a need, some volumes can be exported," said the source.
"These supplies will also allow SOCAR to check the capacity of its underground gas storage facilities," added the source.
The deliveries are being carried out under the contract signed in Moscow on November 21, 2017. Under the contract, it is planned to deliver 1.6 billion cubic meters of Russian gas to the Azerbaijani market in general.
Earlier, Gazprom's Board of Directors decided to open a representative office in Azerbaijan.
There are two gas storage facilities – Kalmaz and Garadagh – in Azerbaijan. Capacity of Azerbaijan's underground gas storage facilities allow to store more than 3.5 billion cubic meters of gas.
---
Follow us on Twitter @AzerNewsAz