14 June 2014 23:01 (UTC+04:00)
2 437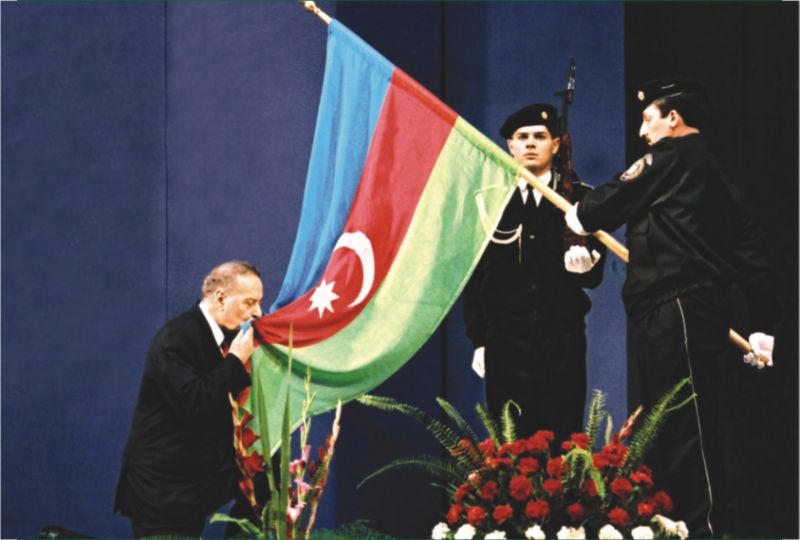 By Nazrin Gadimova
Each country has its own history filled with ups and downs, tragedies, achievements, wars and peace, and Azerbaijan is no exception.
Having gone through many ordeals, Azerbaijan is today a flourishing country involved in many major global projects and with an independent foreign and interior policy. All these became possible by this fact that in a particularly difficult moment, Azerbaijan's respected son, Heydar Aliyev came to help it restore order and justice and take steps in the path of prosperity.
Azerbaijan's National Salvation Day is one of the most memorable days, marking an important event in the country's history.
The history of this holiday goes far to 1990s, when Azerbaijan experienced a hair-trigger situation, which could have led to civil war to start. The People's Front, which came into power in 1992, was not able to control the situation.
Chaos was spreading in all spheres of social life, and the situation was hard for the armed forces. The extent of Armenia's occupation of Azerbaijani territory was increasing day by day - the escalation of the Nagorno-Karabakh conflict came in 1991-1994. At a time when Azerbaijan was losing its lands, the country remained without a strong-willed leader.
Moreover, there was a harsh struggle between separate individuals and groups for power in the newly established state. People's Front showed inability to lead the state due to its ill-determined ruling, and thus, Azerbaijan faced a threat of the civil war in 1993.
Only one person could help the country, which was experiencing a severe crisis in all areas. Desperate and helpless, the people invited their prominent political leader, Heydar Aliyev from the Nakhchivan Autonomous Republic to Baku.
Being elected as the Chairman of the Azerbaijani Supreme Soviet on June 15, 1993, Heydar Aliyev was welcomed by Azerbaijani people with hope and joy. The country was saved only by his greatness, braveness and devotion at a time when the state was on the brink of collapse. The comeback of Azerbaijani President and great leader of the nation Heydar Aliyev prevented a civil war which was flaring up in the country.
Thus, June 15 came down in history as Day of National Salvation. From that moment the country's rampant development on the economic and political plan started. This holiday gained its official status in 1997 and from 1998 it became a national holiday.
One can talk for hours on the great personality of this man. There are so many books and movies about him. In short, we can put them in one sentence: Heydar Aliyev's achievements for the country speak for itself.
Time has proven that Heydar Aliyev's policy was the only proper policy which, in essence, saved Azerbaijan from a series of chaotic events and put an end to a period of half-disintegration.
As a result of a nationwide voting, Heydar Aliyev was elected President of Azerbaijan on October 3, 1993.
The economic reforms carried out on Heydar Aliyev's initiative were based on the principles of the market economy. Both political and economic reforms have preconditioned the present-day rampant development of Azerbaijan.
Azerbaijan's oil strategy started on the initiative of Heydar Aliyev under the difficult circumstances of that time. This strategy is continuing and being enriched today. Heydar Aliyev's oil strategy has been one of the key contributors to Azerbaijan's successful development.
The grandiose oil contract, later called a "Contract of Century", was signed with the Western oil companies in Baku on September 20, 1994. Neither coup attempt nor outside and inside pressures could broke the will of the Azerbaijani leader. This contract instilled confidence to those who were full of doubt about the future of the newly born republic.
Azerbaijan's foreign policy also has gone through some radical changes. At first, Azerbaijan strengthened its place in international relations system, set its short-term priorities and directions, signed major strategic contacts with European countries, the United States, newly independent states, Turkic states, Muslim world, Iran, Asia, Africa and South America. One of the most important achievements of its foreign policy conducted by Heydar Aliyev was the accession of Azerbaijan to the Council of Europe in 2001, and its integration into the European family.
Now, Azerbaijan is decisively advancing forward, developing in all spheres of life, so such memorable date in the country's history is celebrated with much éclat.
The country holds a lot of official and festive events dedicated to this day. In addition, large cities and mountainous regions, remote from the capital hold festivals with traditional Azerbaijani dances and games. Baku, the country's capital arranges colorful firework at the Caspian seashore in the holiday evening.
Related News