29 May 2014 14:13 (UTC+04:00)
1 158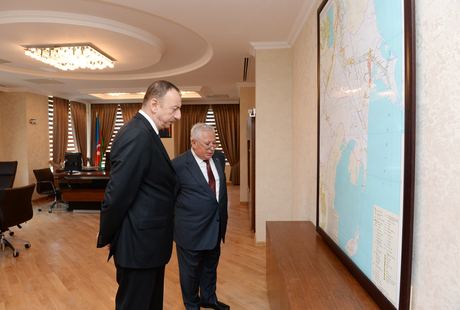 By Aynur Jafarova
Azerbaijani President visited the Neftchala city on May 28.
President Ilham Aliyev first visited and laid a wreath on the statue of Azerbaijan's nationwide leader Heydar Aliyev in the center of the city.
The Head of State attended the opening of the Heydar Aliyev Center afterwards.
The Center's construction started in 2012. An online library, carpet weaving, dance and folk instrument circles will operate in the Center. There will also be foreign language courses, a 3D cinema, an interactive rifle range, and a photo studio.
As part of the visit, President Aliyev attended the opening of a new office building of the Neftchala Region Executive Authority, and got to know the conditions created in the building.

All technical opportunities for using modern management techniques are provided there, facilitating a better organization of the work by the executive structure and productive activity by the staff of the region's executive authority.
Through an operational control room, citizens can establish a direct video link with officials of the executive authority and talk about problems that concern them without coming to the office.
In the assembly hall, all conditions are created for holding events. The building has a library, a meeting room and a conference room as well.

President Aliyev reviewed the administrative map of the district and was informed about Neftchala's economy and ongoing infrastructure projects.

In the territory where the office building of the executive authority is located, major landscaping work has been carried out and a modern lighting system has been installed. There are also fountains that give special beauty to the surrounding area.
The Azerbaijani President visited the Flag Square in Neftchala afterwards.

The Flag Square and the state flag installed there attract a lot of attention with their grandeur. The Flag Square in Neftchala is another good example of the great respect and reverence for state attributes in Azerbaijan.

The flagpole is 36 meters high, making it possible to see the state flag from anywhere in the city. The Flag Square, the construction of which began in 2012, is another indicator of the ​​creative work carried out in the region. Extensive landscaping work has been carried out on the Square, green areas have been laid out, and a modern lighting system has been installed. All conditions have been created for the townspeople's recreation in the Square.
As part of the visit to Neftchala, President Aliyev also visited a new boulevard equipped with a modern lighting system and extensive landscaping.

While touring the boulevard, President Aliyev was informed about the additional measures that will be implemented on the bank of the Kura River for organizing summer recreation for townspeople.
After completing his visit to Neftchala, President Aliyev attended the opening ceremony of the Taghiyev-Sahil highway after its complete reconstruction.
Related News