Rally marking Day of Genocide of Azerbaijanis held in Berlin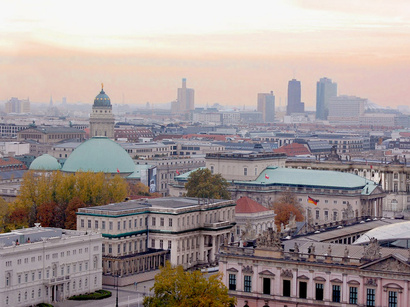 By Nazrin Gadimova
The Azerbaijan House in Berlin, Coordination Center of Azerbaijanis in Germany and German-Azerbaijani Youth Association have co-organized a protest rally marking March 31 - the Day of Genocide of Azerbaijanis.
The rally participants distributed leaflets reflecting the realities about the events and informed local residents and tourists on the genocide, AzerTag state news agency reported.
The participants also read out a statement condemning the crimes of Armenian nationalists against Azerbaijanis.
The participants remembered the bloody pages of history of Azerbaijan.
On those days, thousands of Azerbaijani Turks were killed just for their ethnic identity, houses were set on fire, and the people were burnt alive. Architectural monuments, schools, hospitals, mosques and other buildings were destroyed, most of Baku turned into ruins. Genocide of Azerbaijanis was carried out in Baku, Shamakhi, Guba, Karabakh, Zangazur, Nakhchivan, Lankaran and other places with medieval barbarity.
In February and March 1918, Armenians killed about 50,000 people in Baku, Shamakhi, Guba, Mugan, Lankaran and other cities of Azerbaijan.
Inspired by the idea of the establishment of the Great Armenia, Armenian invaders started to openly commit evil actions against the Azerbaijani nation during 1905-1907. Armenians started their brutal acts in Baku and further spread them through the rest of Azerbaijan and Azerbaijani villages in the current territory of Armenia. Hundreds of settlements were razed to the ground and thousands of Azerbaijanis were savagely killed.
Also, the European Azerbaijanis Congress sent a news release to European Parliament's Human Rights Committee, members of the Parliament, socio-political organizations of Germany and other countries of Europe, as well as governmental bodies and NGOs on the occasion of the March 31-Day of genocide of Azerbaijanis.