26 February 2014 14:04 (UTC+04:00)
1 983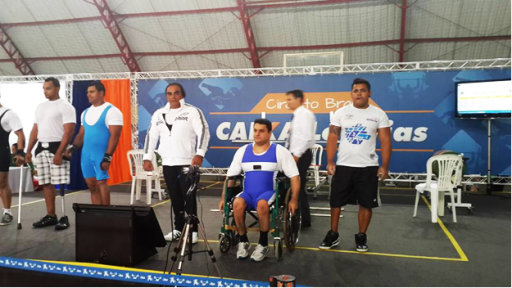 By Nigar Orujova
An Azerbaijani Paralympic athlete updated the European record in powerlifting at the championship in the Brazilian city of Uberlandia.
Gunduz Ismayilov, a member of the Azerbaijan National Paralympic Powerlifting Team who has returned to the sport after a nine-year interval, lifted a 197 kg barbell in the 88 kg weight category.
Ismayilov received a license for the World Cup which will be held in Dubai, UAE, in April.
Azerbaijani Paralympic athletes are also participating successfully at an international tournament in athletics held in Dubai.
Azerbaijani sportsmen Elvin Astanov, Samir Nabiyev, and Manzara Ahmadova won prizes on the first day of the tournament.
Elvin Astanov took the second place in javelin with a score of 19.73 meters while Samir Nabiyev took the third place in the shot put (11.61 meters) and discus throw (39.03 meters).
Athlete Manzara Ahmadova took the third place in the javelin among women with a score of 9.31 meters.
On the second day of the contest, Elchin Muradov, Solmaz Seferova, Manzara Ahmadova, and Huseyin Hasanov won more awards for Azerbaijan.
Elchin Muradov won first place at the 200-meter race. Solmaz Seferova claimed second place in discus throwing, and Manzara Ahmadova and Huseyin Hasanov took fourth place in the shot put and long jump respectively.
Azerbaijani Paralympic athletes are achieving more success year by year. They are currently taking part in 10 sports competitions.
The first Children's Paralympic Committee in the world was established in Azerbaijan in September 2013.
Related News