Secrets of delicious Azerbaijani meals to be available for all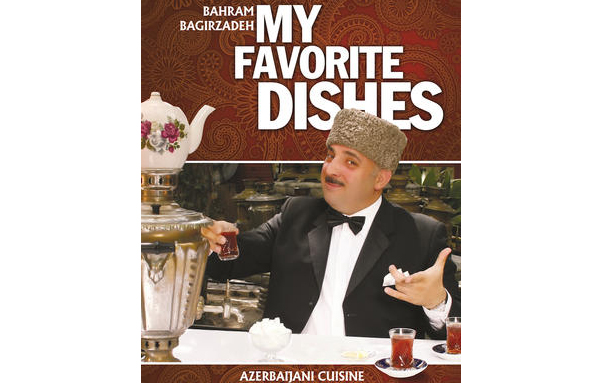 By Nigar Orujova
It is a truth universally acknowledged that countries with delicious and outstanding cuisine are eagerly promoting it around the world. Today, we can eat pasta, sushi, and taco in every country, meals that made Italia, Japan and Mexico very popular. However, Azerbaijan's scrumptious cuisine is not still included in the list of the most famous dishes.
Bahram Bagirzade, a famous Baku citizen, author, comedian, actor, and film director, believes that the situation should change.
Good news, now everyone will be able to taste Azerbaijan's delicious meals!
Bagirzade, together with an Austrian company, created an application "Noush Olsun!" (Bon Appétit!) which will be available in Apple Store from December 31.
The first Azerbaijan food application will have the most delicious national dishes, based on the Bagirzade's book "My favorite dishes".
It will create an opportunity for everyone to get acquainted with Azerbaijani cuisine and taste it personally just by two clicks, as the app will contain the recipes and terminology of basic Azerbaijani cuisine, along with cooking secrets that will provides a chance for cooking the most popular traditional dishes.
It will also serve as a guide for Baku quests in visiting restaurants in which they can taste the dishes. Some of these restaurants are located in historic areas, enabling visitors to make a journey to the city's history, get to know the traditions and lifestyle of its inhabitants, and see the interesting architecture of Baku.
The application will be initially available in English and Russian, but more languages and recipes will be offered to food lovers in the near future.
"All countries of the world publish their recipes. We have the most brilliant cuisine of the world and still have not done it, so I decided to make it based on my book of recipes," Bagirzade said.
The application was mostly created for Azerbaijanis who have long left the country, and foreigners who have tried these dishes in the country and would like to cook tasteful Azerbaijani dishes when they go home, he said.
Referring to the reasons behind the lack of high popularity of Azerbaijani national meals, Bagirzade connected it to the lack of traditional restaurants abroad.
"Foreigners fall in love with our foods when taste it in Azerbaijan," he stressed.
To popularize our kitchen, he suggested creating vocational cooking schools for cooks and waiters. "Rich Azerbaijanis abroad must open national restaurants. For example, Uzbeks opened such restaurants in Moscow. We can also open "Dolma House" and advertise Azerbaijani cuisine around the world."
Bagirzade suggested creating a museum of Azerbaijani cuisine in Baku, which will offer specific meals of Azerbaijani regions in branded restaurants.
"We have a very good cuisine and very interesting dishes. If we open such a museum, we can show how to cook our meals right in the restaurant and even give the guests a chance to cook it themselves," he added.
Healthy Azerbaijani cuisine, including variety of meat and many dishes with rice, flour, vegetables, and greens, deserves to become more recognized.
Hopefully, the unique dishes of Azerbaijani cuisine such as dolma, bozbash, bozartma, chykhyrtma, khashil, Shish kebab, piti, pilaff, and govurma will soon be more famous in the world through such promotions.
Noush Olsun!