8 November 2012 16:37 (UTC+04:00)
2 565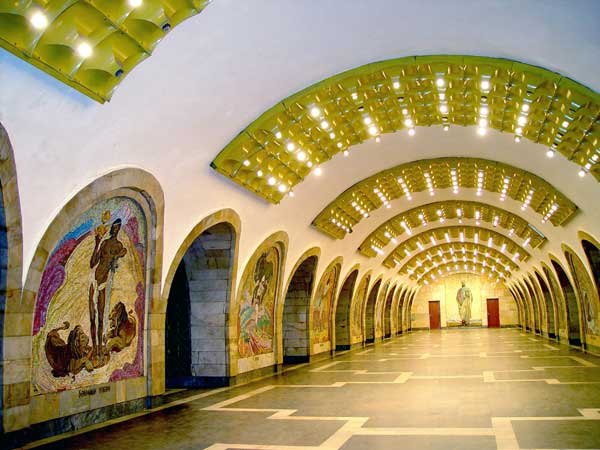 By Nigar Orujova
President Ilham Aliyev issued orders to award a number of employees of the Baku subway for their effective work on Wednesday, a day before they celebrated their holiday.
Along with Sohret (Honor) and Tereqqi (Progress) medals, President Aliyev awarded some subway staff with personal presidential grants and the "honorary engineer" grades.
This year Baku Metro marks its 45th anniversary. On this occasion, Baku Metro head Taghi Ahmadov conferred a number of subway employees with the "Honorable railway personnel" award.
A difficult task
Opened on November 6, 1967, Baku Metro with 6.5 kilometers of underground lines and five stations, was the fifth underground in the former Soviet Union. It has features found in most other former Soviet subway systems, including very deep central stations, and exquisite decorations reflecting traditional Azerbaijani national features.
The current length of the Baku subway is 34.56 kilometers with 23 stations. Total length of the subway stairs is more than 4,500 meters with 54 escalators of five types.
Construction of Baku Metro was a big victory of highly skilled designers and builders as construction work was carried out in very complex hydro-geologic conditions and required a great number of specially trained workers.
All the unconventional equipment and fundamental elements for reinforced concrete structures were manufactured in Azerbaijani engineering industry. After the first section of the undeground was launched, the second section, which was 2.3 kilometers long, was put into operation. The third, 6.4-kilometer section connected the large "8th kilometer" residential area and industrial zone to the center of the Azerbaijani capital.
Baku subway employees are highly skilled and many of them have undergone trainings in Moscow, St. Petersburg and Kiev.
Unfortunately, Baku Metro drew international attention after the terror attacks in 1993-1995, which claimed many lives. Equipment was damaged as well.
In order to prevent such emergencies and tighten supervision over passengers, special control monitors were installed on the platforms, escalators, traffic controller rooms and other areas of the subway.
A new smart-card payment system was introduced in order to improve passenger service.
Ahmadov noted that it is planned to commission two new subway stations in 2013.
Subway of the future
Adoption of the 20-year Baku Metro Development Plan shows the authorities' particular attention to the underground's improvement. According to the Baku Metro head, the number of railway stations will reach 73 by 2030.
Extensive work has been done to develop subway lines in the past few years and about 600 million manats ($764 million) was allocated for the development of the subway. It included comissioning Nasimi, Azadlig Avenue, Darnagyul and second exit of 28 May subway station, and reconstuction of Icherisheher and Koroglu stations.
The 28 May station will be reconstructed in 2013. The work at Avtovokzal, Memar Ajami-2, Hazi Aslanov-2, Kohna Guneshli and Yeni Guneshli is underway.
"It is planned to open the new Autovokzal and Memar Ajami-2 stations in 2013," Ahmadov said on Thursday.
According to Ahmadov, Hazi Aslanov-2, Kohna Guneshli and Yeni Guneshli stations are scheduled to open in 2016.
The Baku subway is known well as one of the most beautiful subways in the world. Nizami subway station in the city center is of particular interest for tourists for its unique interior depicting characters of the outstanding Azerbaijani poet's works.
In the future, the underground will be equipped with modern technology enabling it to service seven-car trains. It is also planned to install lifts for use by disabled people.
Baku Metro plans to apply the Internet in all of its stations, Ahmadov said. Currently, in most of the stations there is access to the Internet through local mobile providers.
Baku Metro park has 266 subway cars which are capable to ensure safe traffic, the subway head said.
The decision to expand the Baku Metro network is made in view of the growth of the capital's population. Baku Metro transports over 200 million passengers a year. The number of passengers transported daily exceeds 500,000, on some days reaching even 750,000.
Related News